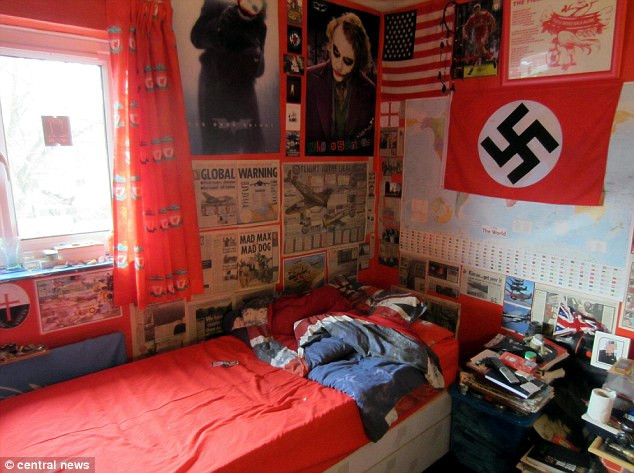 This is the bedroom where neo-Nazi Michael Piggin plotted a Columbine-style terrorist attack.
The teenager adorned the walls of his bedroom, at his home in Loughborough, with a Swastika flag, cuttings of military planes and two large posters of derranged Batman character The Joker.
Underneath his windowsill was an EDL symbol and the 18-year-old also had a poster of Liverpool and England captain Steven Gerrard on his wall next to the stars and stripes of an American flag.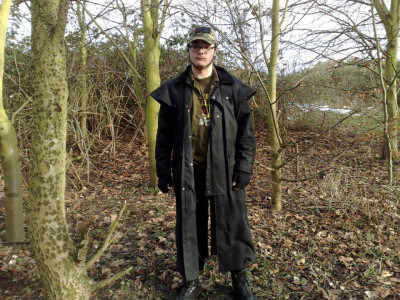 Piggin, who suffers from Asperger's syndrome, is accused of plotting a 'new Columbine' and made videos of himself detonating Molotov Cocktails, the Old Bailey heard this week.
Piggin and his two co-defendants donned balaclavas for a series of videos of them making Molotov cocktails using wine bottles and white spirit.
He stockpiled homemade petrol bombs, terrorist manuals, and an array of weapons in his room as he planned attacks on his former school and the college where he was studying for his A-Levels.
Hardcore ideology
Along with two of the would-be terrorists friends, the group called themselves the Urban Revolutionary Army.
The English Defence League supporter allegedly kept a notebook of potential targets, including the local mosque, cinema and council offices.
He'd also made plans for an armed assault on his former school as 'the new Columbine'.
Heath Ledger's Joker in the Batman sequel 'The Dark Knight' allegedly inspired Piggin to plan a wave of terror in his hometown and the jurors have heard how he drew up a list of teachers and pupils he wanted to murder.
He scrawled the mantra 'when order fails, violence prevails' in his notebook that was adorned by pictures of Cuban revolutionary Che Guevara.
Slogans including 'EDL: No Surrender', 'British and Proud', were scrawled alongside Nazi Swastika drawings was also etched on the homemade terrorism manual.
Piggin denies owning items for terrorism and a terror manual, but admitted possession of petrol and pipe bombs and components of IEDs.
The trial continues.