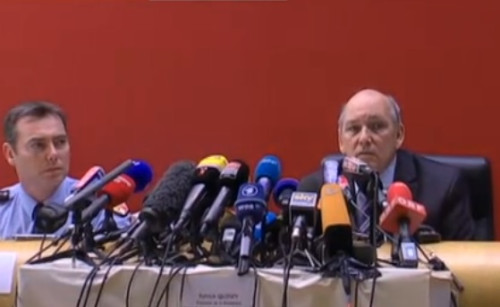 Police investigating Michael Schumacher's disastrous ski crash have probed whether poor signage on the mountain meant the Formula 1 legend did not know he was in a dangerous area.
Investigators are going frame by frame through footage from a camera mounted on the racer's helmet when he crashed after going off-piste on a slope in Meribel resort, in the French Alps.
The investigation is "progressing well" a press conference was told at Albertville – the prefecture in which the resort of Meribel is located, in the French Alps.
Investigators said the edge of the piste was clearly marked and would have been legible to Schumacher – ruling out the possibility he did not know the area was hazardous.
A police investigator said: "The signage was in accordance with regulation. The markings made sure that even when the weather was bad the signings could be seen. Schumacher was on virgin territory and that gives rise to certain danger."
But reports there is crash footage captured on a second camera by a bystander are being treated as "dubious" by prosecutor Patrick Klansey and no material has been handed over.
Investigators also distanced themselves from reports Schumacher crashed after going to the aid of a child who was in difficulty on the slope. "We have spoken to various members of the family and to my knowledge we haven't got that information," Klansey said.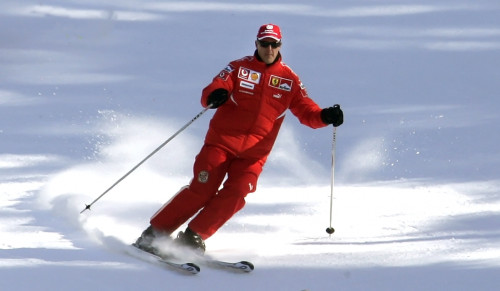 It emerged Schumacher did try to slown down immediately before falling and banging his head on a rock in an impact which split his ski helmet, on December 29.
"Schumacher was on the left side of the edge of the piste. He tried to reduce the speed but there were few curves so a parallel trace remained to the direction he was going in. As he was off piste it was difficult to slow down," a police investigator said.
Klansey said the equipment the Ferrari ace was using – including rented skis - were in top condition when it happened.
He described what happened. "He [Schumacher] follows the red piste and soon finds himself off piste. He then carries out a [manoeuvre] – he's obviously a very good skiers.
"At one point he loses balance, he falls forward and he hits a rock which 3.5 metres below and eight metres from the edge of the piste. Mr Schumacher lies on the ground and is inanimate nine metres from the edge of the piste."
Around 50 similar incidents are dealt with by the authorities each year, Klansey said.
In contrast to speculation about how fast Schumacher was travelling when the crashed happened, Klansey said: "Speed is not a particularly important aspect for us or the decison we are likely to take at the end of the enquiry."
A plea by Schumacher's family to be left in peace while the racer remains in a critical but stable condition in hospital in Grenoble was repeated by Klansey.