Michael Schumacher: German magazine claims F1 legend is walking again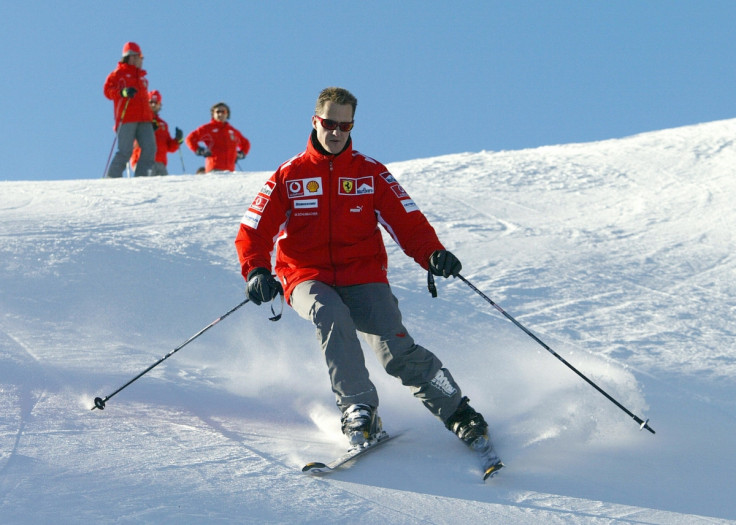 A German magazine has claimed stricken Formula 1 racing legend Michael Schumacher has started walking again – taking tentative steps with the aid of a carer. Glossy magazine Bunte published a front page story on Tuesday (22 December) in which it quoted a "confidante" of the star.
The unnamed source reportedly said: "Michael is very thin. But he can once again walk a little with the help of his therapist. He manages to walk a few steps. He can even raise his arm."
But Schumacher's representatives have denied the story's claims, accusing staff at Bunte of giving "false hope".
Long-term manager, Sabine Kehm, said: "Unfortunately, we are forced by a recent press report to clarify that the assertion that Michael could move again is not true. Such speculation is irresponsible, because given the seriousness of his injuries, his privacy is very important for Michael. Unfortunately they also give false hopes to many involved people."
Bunte said it stood by what it had printed and would not be retracting the piece, which describes Schumacher's "improvement" as a "Christmas miracle".
It is almost exactly two years to the day since the seven-time Formula 1 world champion suffered horrific head injuries after hitting a rock while skiing at the French Alps resort of Mirabel with wife Corinna and children Mick and Gina Maria.
The accident, on 29 December 2013, saw him airlifted to hospital and undergo two emergency brain surgeries. He was left in an induced coma for months. Released from hospital in September 2014, he has since been recovering in a purpose-built medical suite at his Lake Geneva mansion in Switzerland where a team of 15 people look after him round-the-clock.
Reports on his condition have previously been few and far between with strict media controls imposed by his family. In November 2014, former racing driver Philippe Streiff told French radio Schumacher was paralyzed and in a wheelchair, suffering "memory and speech problems".
His manager Kehm revealed in April this year Schumacher was "making progress" but was still immobile and unable to speak. Last month, FIA president Jean Todt, a close friend of the star, was reported to have said Schumacher was "still fighting", adding: "I see Michael very often and Michael is still fighting. Michael is a close friend, his family is very close to me and I am very close to them as well. We must keep him fighting with the family."
Wife Corinna, who is managing her husband's finances as the former racing driver receives treatment, reportedly sold their £25m private jet and holiday home after accepting her husband may never fully recover.
© Copyright IBTimes 2023. All rights reserved.