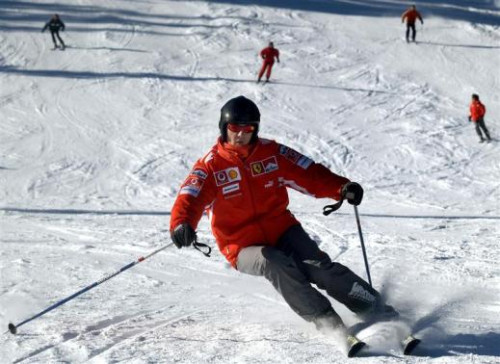 A criminal probe into Michael Schumacher's catastrophic ski crash has been shut down by investigators in France.
Prosecutors looking into the accident in the exclusive French Alps resort of Meribel have found no safety rules were broken by the slope managers.
Seven-time Formula One champion Schumacher, 45, has been in a coma at Grenoble hospital since hitting his head on a rock while out skiing with his teenage son and a friend, last year.
Investigators looked into whether hazards on the the slope Schumacher was skiing on had been properly labelled. Failure to adequately flag up dangers such as rocks is punishable by up to three years in prison under French law.
But after the latest development, nobody now faces jail over the crash, which triggered an outpouring of concern and sympathy worldwide.
Speaking at a press conference, prosecutor Partrick Quincy said: "There were no breaches by anybody. The accident occurred in an off-piste zone.
"The signals, markers and the information about the limits of the piste conformed to current French laws."
The force of the impact was so heavy it split the racer's helmet in two, with speculation that a camera mounted on it was like a "hammer" blow to his skull.
The findings rule out the possibility that the managers of the slope had failed to warn of hidden rocks. Schumacher was injured when he strayed four metres off the piste course. Signage around the area was "good and clear" said prosecutors.
Schumacher remains in a coma more than six weeks after his crash. Efforts continue to lift him from an artificially induced coma in which he has lain in a bid to help his brain heal from severe injuries.
In a statement last week, his family cautioned that the 'waking up' process could be a long one. They said: "As assured from the beginning, we will continue to communicate any decisive new information on Michael's health state. We are aware that the wake up phase can take a long time."
Recent days have been tough for Schumacher's family, with reports the F1 legend has been hit with a lung infection, as well as a false death rumour which circulated online and forced experts treating him to refute it in an official statement.