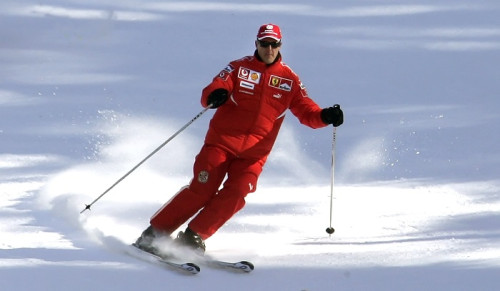 Investigators believe that a camera fitted to Michael Schumacher's ski helmet may have caused it to shatter in an accident that left the seven times world Formula One champion hospitalised in a coma.
Experts from Ensa, a ski and climbing academy in the French resort of Chamonix, have been conducting tests to establish the effect of having an object between a ski helmet and a solid object when they collide.
"The helmet completely broke. It was in at least two parts. Ensa analysed the piece of the helmet to check the material, and all was OK," said a source close to the investigation.
"But why did it explode on impact? Here the camera comes into question. The laboratory has been testing to see if the camera weakened the structure."
Though the helmet broke, the camera was undamaged, and the footage Schumacher recorded of himself and his son skiing is being used by investigators to establish the cause of the crash, and the reason for Schumacher's injuries.
On Monday Patrick Quincy, who is leading the police investigation into the accident, is due to deliver his verdict. He is expected to clear the ski resort of any blame, and exonerate the company who manufactured Schumacher's helmet and skiing equipment.
The source added: "The equipment seems to have been in good order. The skis were almost new, the bindings were not faulty and the ski boots were fine."
Schumacher had been skiing off piste with his son and family friends seven weeks ago near his chalet in the French ski resort at Meribel when he had his accident.
He remains in a medically induced coma at Grenoble University Hospital.
In response to rumours that he had caught pneumonia, his family last week released a statement.
It said: "As assured from the beginning, we will continue to communicate any decisive new information on Michael's health state. We are aware that the wake-up phase can take a long time.
"The family continues to strongly believe in Michael's recovery."