Back in 2013 the friends and family of Michaella McCollum began an online campaign to help find the Irish woman, who hadn't been in contact with anyone for weeks since travelling to Ibiza. When it was reported that she had been found, they discovered she was over on the other side of the world – in prison.
It was breaking news the world over as the 20-year-old from Dungannon and her friend, Melissa Reid from Glasgow, were arrested for drug smuggling at Lima Airport in Peru, after their luggage was found to contain 11kg of cocaine – worth £1.5m ($2.1m) – hidden inside packages of food.
Images of the two women flooded the media, the most iconic being of them standing in front of the luggage that contained the drugs. Their story was simple: they claimed they had been kidnapped and forced to carry the drugs by a gang who threatened them and their families.
As they played the public and media with their stories of innocence, more information came to light that proved they knew more about what they were doing than first let on. Having pleaded guilty to drug smuggling in order to receive a lighter sentence than the maximum sentence of 15 years, the pair were sentenced to six years and eight months in prison in 2013.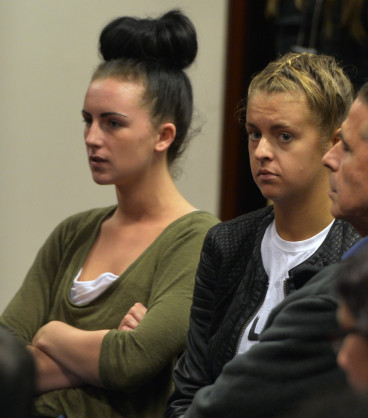 Their story was brought back to the centre stage this week as McCollum was released from prison after serving more than two years in jail, giving an "exclusive" interview to national Irish TV broadcaster RTE.
The interview was aired at 9.30pm on prime time TV, and has since seen several complaints. Not only was the interview extremely soft, as it failed to question Michaella for her actions, but it seemed extremely staged from both parties. Michaella was clearly prepped on what to say, and many have also commented on her makeover. She trained as a beauty therapist, so it doesn't seem like there was much hardship in prison.
Everything about this situation appals me. In her own words: "In life everybody makes mistakes." Yes, this is true, but let's say Michaella was a young male who was caught with £1.5m worth of cocaine, do you think the excuse of "I didn't know what I was doing" would cut it for his defence?
She didn't receive her pay off for the drugs, but now she looks set to cash in.
Furthermore she has almost overnight become a celebrity since her first exclusive interview. Will RTE be going out of their way each week to speak with drug smugglers? They have painted her as the victim, but this 'victim' is a liar and a criminal.
Maybe the public wouldn't be as tough on her if she had admitted the fact she knew exactly what she was doing, but was simply caught. I don't believe for one moment her "moment of madness" statement, or the "naïve young girls" comment made by Irish priest Father Maurice Foley, who visited her in prison in Lima. They were 20 years of age, they knew what they were doing was wrong.
The Irish Mirror has reported that she is tipped for an appearance on the next series of Celebrity Big Brother. The bookies also say she is 10/1 for appearing on Come Dine With Me and 16/1 for an I'm A Celeb outing.
Her new image has been plastered all over the media here in Ireland and she is now the glamourised face of the drug trade. What sickens me most is the money that comes with this. She didn't receive her pay off for the drugs, but now she looks set to cash in.
I can see it now: more interviews, a book, and who knows, maybe even a movie down the line. What a sad word we live in when a young woman can become a success story after a failed attempt at smuggling drugs.
---
Rachel Lynch is a journalist with InTallaght Magazine in Dublin and a columnist with The Irish Post
---