Michelle Obama showed off her swag in a rap video extolling the virtues of a higher education. The First lady teamed up with Saturday Night Live star, comedian Jay Pharoah for the music video encouraging young people to make the right choices after leaving high school.
Inviting the President's wife to join him, Pharaoh says "Help me out FLOTUS," prompting Michelle Obama to launch into a rap, singing: "You should go to college, If you want to cash cheques, fill your head with knowledge."
The First Lady goes on to rap about her own experiences, sharing an image of herself as a young graduate, up to when her husband was announced President and she became First Lady. She sings: "South Side Chicago, We all know. We had to do overtime every night to make it to tomorrow. And everyone could really make their dream true. Hey kid, listening in Michigan that could be you!"
Sporting shades, Mrs Obama is then seen rocking out outside The White House, proving she has all the right moves as well as brains and the best advice for anyone wanting to make something of their life. And there's no doubting what a great example she is herself.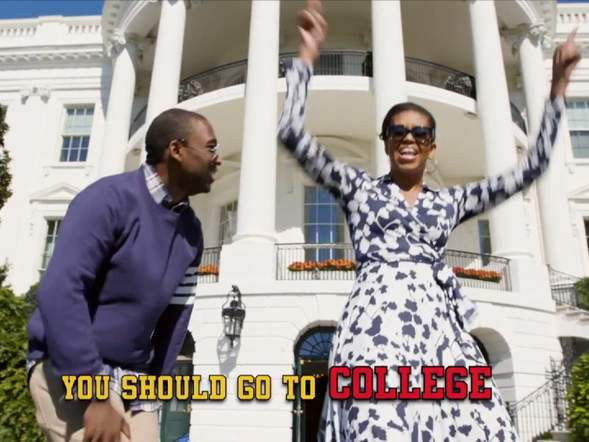 Featuring music composed by YouTube celebrities The Gregory Brothers,the fun video with an important message was made with the help of website CollegeHumor as part of Mrs Obama's Reach Higher campaign.
The Reach Higher initiative is the First Lady's effort to inspire every student in America to take charge of their future by completing their education past high school, whether at a professional training program, a community college, or a four-year college or university.