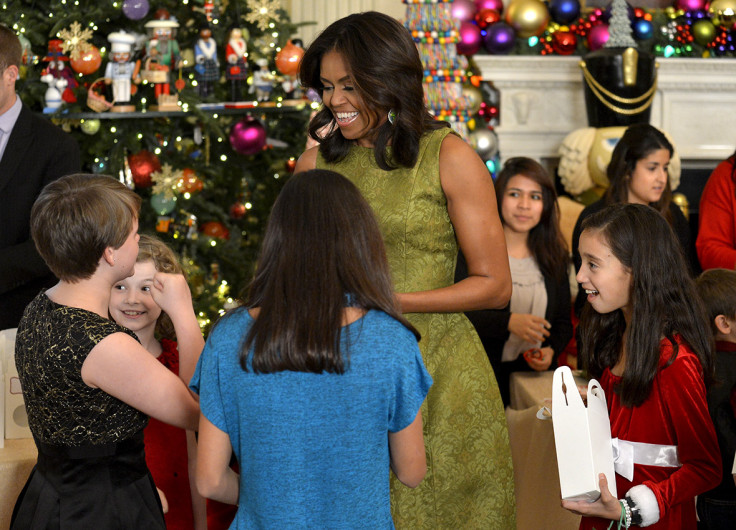 Michelle Obama has unveiled the Christmas theme at the White House to usher in the period of advent. Going by the tradition of the country, the US first lady kickstarted the holiday season by celebrating with military families in the east room of White House on Wednesday [2 December].
The theme of this year's holiday season is A Timeless Tradition. The theme "reflects long-held traditions cherished across America, and commemorates extraordinary moments that shaped the country during the past two centuries," the White House said in a statement.
White House Christmas ornaments
The White House is expected to receive over 68,000 guests this season and has been decked with ornaments throughout. There are 62 Christmas trees and over 70,000 Christmas ornaments adorning the complex in and out. The Fraser fir tree on display in the Blue Room is over 18ft high, and was grown in Lansdale, Pennsylvania for this year's celebrations.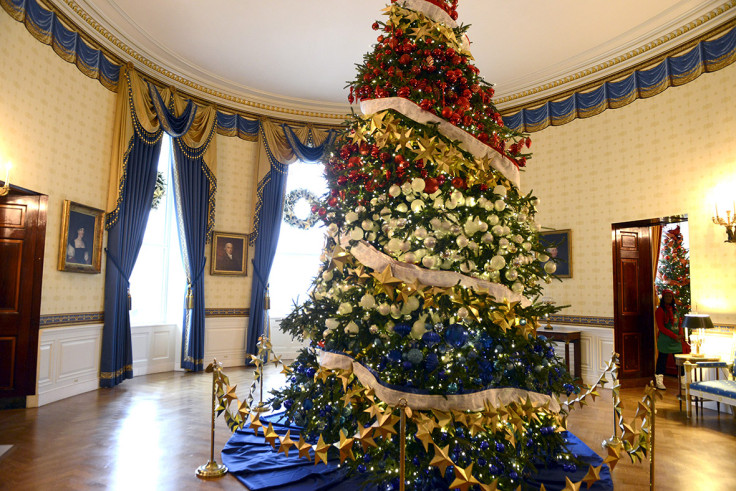 A tree on the east entrance pays tribute to the American armed forces. It has been adorned with gold star ornaments by families of fallen soldiers. Alongside the tree, the east entrance features mailboxes, care packages, and garlands made with airmail envelopes to symbolise the love for troops who are away in the holiday season.
The gingerbread house in the State Dining Room, an annual tradition, is about 500lbs. Other embellishments on display include a family of stuffed penguins aboard a glitter-clad sleigh, boxwood arches adorned with lights, chandeliers, snowflakes, 56 snowmen and snowwomen representing the number of states and territories in the United States, wreaths, garlands and over 4,000 bells among others.
Larger-than-life replicas of Obama's' pets, Bo and Sunny, are on display outside the building. The replicas are created out of nearly 55,000 feet of yarn knitted into 7,000 pom-poms. "Only 10% of the design used new products and materials," it said.