Michelle Obama criticises Donald Trump for 'disgraceful' comments about women
'It doesn't matter what party you belong to, no woman should be spoken about like this.'
Michelle Obama has launched a scathing attack against Donald Trump, describing his comments about women as "frightening" and "disgraceful." Speaking at a Hillary Clinton rally in New Hampshire, the First Lady expressed her disbelief that a man who has repeatedly bragged about sexually molesting women could even been considered a candidate for president.
Commenting on the 2005 video footage from Access Hollywood, in which the property billionaire is heard describing how he could grope women if he wanted, claiming "when you're a star they let you do it" she said it was "disgraceful."
"This in intolerable and it doesn't matter what party you belong to, Republican or Democrat. No woman should be spoken about like this," she said.
"The fact is that in this election we have a candidate who over the course of his lifetime and this campaign has said things about women that are so shocking and so demeaning, I simply will not repeat any of them here today," Obama said.
"Last week we saw this candidate actually bragging about sexually assaulting women," she added. "I cannot stop thinking about this."
She added that his 'obscene' comments have 'shaken me to my core in a way that I couldn't have predicted" and said the Republican presidential nominee's sexual comments should not be seen as "politics as usual". "This isn't about politics it's about basic human decency," she explained Sky News reports.
In her speech, Obama decried Trump's claims that his comments were just "locker room banter" adding that he is a poor role model for young boys. "This was a powerful individual speaking freely and openly about sexually predatory behaviour. The belief that you can do anything you want to a woman, it is cruel, it is frightening, and the truth is it hurts."
She told the rally that the measure of any society is "how it treats its women and girls" adding that "strong men, men who are truly role models, do not need to put down women to make themselves feel powerful".
"Enough is enough", she said. "This has got to stop right now,"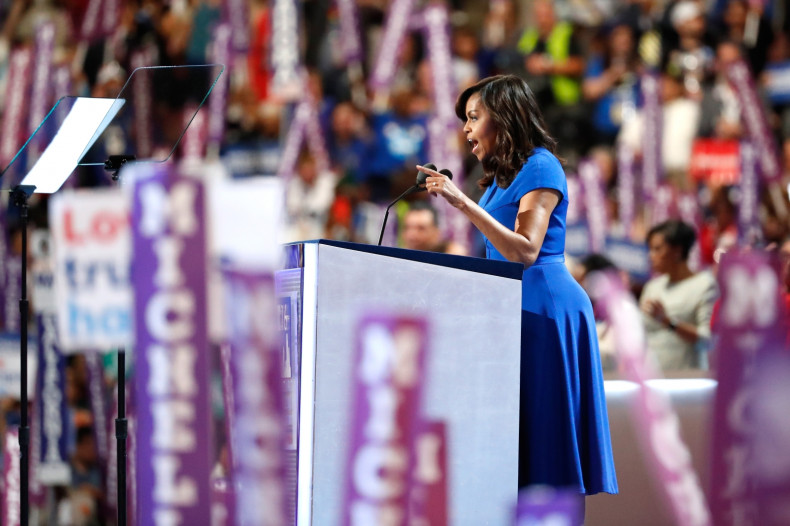 Her comments come just a day after her husband President Barack Obama branded the clip "repugnant".
After the footage was published by The Washington Post, Trump issued a video apology in which he dismissed the crude conversation with Bily Bush as "locker room banter".
The remarks sparked widespread condemnation from leaders of the Democratic and Republican parties alike, with Trump's running mate Mike Pence stating that he was "offended by the words and actions described by Donald Trump".
However, while Trump has denied sexually assaulting women , more allegations of sexual impropriety have since surfaced which pour scorn on his claims that his mysogynistic talk is just banter.
CBS has aired a video of an outtake from Entertainment Tonight recorded in 1992 in which Trump is seen passing a group of schoolchildren as he goes up the escalator in a mall . He is heard telling one of the children. "I'm going to be dating her in 10 years. Can you believe it?" According to US media the child was only ten at the time.
Speaking to The New York Times, Jessica Leeds described how she was allegedly molested by the GOP candidate when she sat next to him on a flight to New York in the 1980's. "He was all over me," she said. "He was like an octopus. It was like he had six arms. It was when he started putting his hand up my skirt ..."
Trump said her claims are a "complete fabrication" denying he ever made unwanted sexual advances on women.
While commentators are questioning whether Trump might even be able to continue to the finish line in the presidential race amid the growing accusations against him, he was nevertheless met with cheers by his supporters at a campaign appearance in Florida on Thursday (13 October).
Ignoring question from reporters about the allegations of sexual misconduct, he told Florida business leaders ahead of the rally in West Palm Beach: "It's been a very interesting period of time."