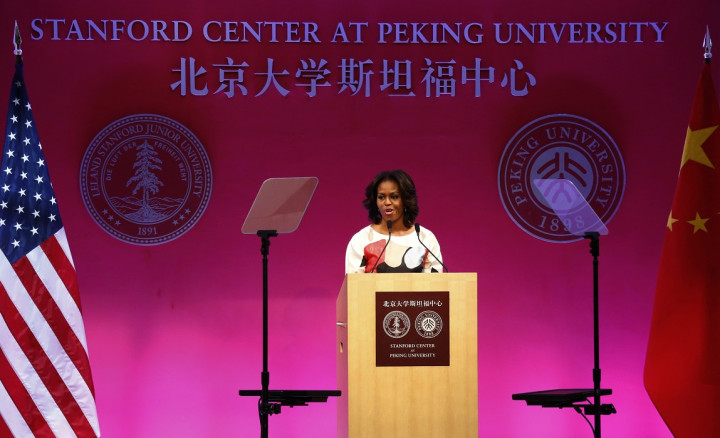 Michelle Obama, the First Lady of the United States, has spoken out on human rights concerns during a visit to China.
Obama briefly set aside her policy of "soft diplomacy" to give a speech advocating freedom of expression and open access to information, but stopped short of levelling any criticism at Beijing itself.
She told an audience of 200 students at Beijing's prestigious Peking University that human rights and a free press should be universal. The Chinese Government heavily censors local media and controls the use of the internet in the country.
"When it comes to expressing yourself freely, and worshipping as you choose, and having open access to information - we believe those are universal rights that are the birth right of every person on this planet," Obama said.
"It is so important for information and ideas to flow freely over the internet and through the media.
"My husband and I are on the receiving end of plenty of questioning and criticism from our media and our fellow citizens, and it's not always easy... but I wouldn't trade it for anything in the world."
Obama did not call on China directly to acknowledge its citizens' human rights, and has avoided political issues during her visit to improve relations between the two countries and build goodwill with the Chinese Government.
Obama also met her Chinese counterpart on Friday, a long-anticipated encounter during her week-long trip. Obama arrived in Beijing on Thursday, accompanied by her two daughters and her mother.
Their trip has already taken them to Beijing's Summer Palace and China's historic Forbidden City. A visit to the northern city of Xi'an, home to the famed Terra Cotta Warriors Museum, and to a panda breeding facility outside Chengdu in southwestern China are also on the agenda.