A man who shot dead at least six people in the city of Kalamazoo in Michigan has been identified as an Uber driver. Jason Dalton reportedly picked up passengers in between the shootings, which took place over a period of five hours.
A Facebook post has also emerged, in which a woman frantically warns people that her fiancé was in Dalton's Uber car and that he was driving "very erratically" and refused to let her fiancé out of the car. Mackenzie Waite posted a message on Facebook, along with an image of Dalton, and also identified the car that he was in. She said that they had called 911 about the incident but officials "didn't seem all that concerned".
Waite wrote on Facebook: "I'm thankful that no one was hurt yet. Hoping this man will be arrested or hospitalised soon if he has a medical condition causing this behaviour."
The Facebook post appears to have now been deleted and Waite told a journalist at WoodTV that she did not wish to comment. Meanwhile, Uber has confirmed that Dalton was a driver for them and that he had cleared a background check.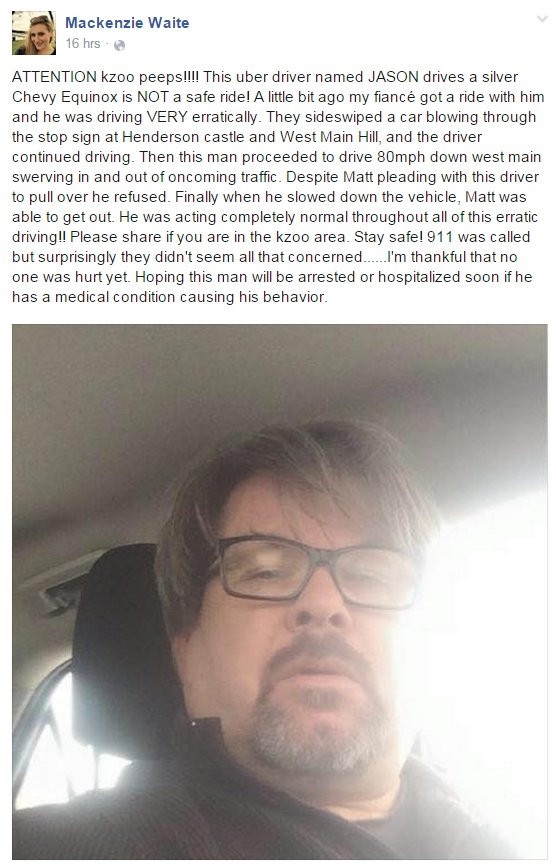 A statement from Uber said: "We are horrified and heartbroken at the senseless violence in Kalamazoo, Michigan. Our hearts and prayers are with the families of the victims of this devastating crime and those recovering from injuries. We have reached out to the police to help with their investigation in any way that we can."
Police have confirmed that Dalton was taking Uber fares in between the shootings at three different locations, indicating that he had passengers in the car as he moved from one shooting to another. The shooting rampage began at roughly 6pm on 20 February outside the Meadows Apartment buildings, where a woman was shot and suffered from serious injuries.
Slightly more than four hours later, a father and his 18-year-old son were shot and killed while looking at cars at a Kia dealership. One hour after that five people, four women and one teenager, were killed by the shooter in a parking lot of a Cracker Barrel restaurant. The teenager is in critical condition while the four women were killed.
Authorities are believed to be investigating reports that Dalton dropped off a group of people at Fairfield Inn in Texas Township before driving next door to the Cracker Barrell and shooting his victims.
Meanwhile, students at the nearby Western Michigan University have slammed the publically funded institution for failing to issue appropriate security measures during the deadly incident. WMU students reported on social media that they had received no alert about the gunman, despite it being a Saturday night and many students being out on the streets.