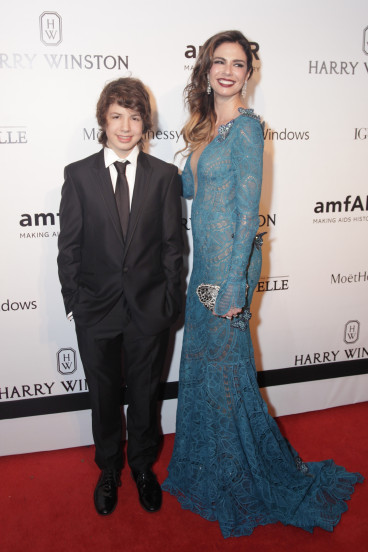 The mother of Mick Jagger's 16-year-old lovechild, Luciana Gimenez Morad, has spoken out against rumours claiming she conceived son Lucas with the Rolling Stones frontman in a dog kennel.
In an interview with the Brazilian version of Glamour, the 45-year-old commented: "Can you imagine Mick Jagger... inside a kennel, me on top of him and the people at the party all watching?
"I am a super-refined gal and would never do this."
The accusations stemmed from the 2012 biography Mick: The Wild Life and Mad Genius Of Jagger by controversial writer Christopher Anderson, which claimed the pair had sex in a dog kennel during a party in Brazil in 1998.
Andersen wrote that Morad was one of the few English-speaking guests at the event held in Rio De Janeiro, so Jagger spent most of the night with her. He goes on to write that when Jagger excused himself to the host stating he was "going to take some fresh air in the garden with Luciana", the new acquaintances "ended up s******g in the kennel".
Former fashion model and TV show host Morad's involvement with Jagger famously ended his 22-year relationship with model and actress Jerry Hall in 1999. Hall allegedly discovered Jagger's infidelity with Morad during an intimate dinner party at their home in London, when she was given a copy of a newspaper at their front door revealing details of Lucas' birth.
After putting up with his well-publicised philandering for several years, the news that he had made another woman pregnant was reportedly described by Hall as "the straw that broke the camel's back" and following that, she went back inside the house and broke off their marriage.
Jagger has seven children, including Lucas, with four different women. He had four children with ex-wife Hall including now-model Georgia Jagger, a daughter with old girlfriend Marsha Hunt and another daughter with his first wife, Bianca Jagger.