Microsoft has just launched the Surface Pro 3, a 12in tablet which the company says is a tablet which can finally replace your laptop.
With a redesigned hinge to aid use when on your lap, a larger high resolution screen and a powerful processor, Microsoft believes the Surface Pro 3 is the product which will finally see a tablet replace a laptop for everyday use.
Microsoft has increased the size of the Surface Pro 3 screen to 12in from the 10in Surface Pro 2 which was launched just seven months ago. The new tablet is also the thinnest Surface to date at just 9.1mm.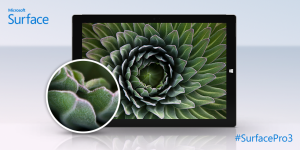 This has been achieved by being fan-less thanks to a close collaboration with Intel, with the tablet using a high-end Core i7 processor.
The ClearType screen has a resolution of 2160 x 1440 pixels which is similar to the resolution of the 9.7in iPad Air.
The tablet is also light compared to a MacBook Air, which Microsoft believe is a comparable device. The Surface Pro 3 is 800g compared to the 13in MacBook Air which weighs 1.35kg. However compared to an iPad Air which weighs 469g, the Surface Pro 3 is a lot heavier.
The Surface Pro 3 however is aimed not at the casual market, but at the enterprise market, with Microsoft launching a new docking station for the new tablet, allowing you to output your display to the a high resolution 4K monitor.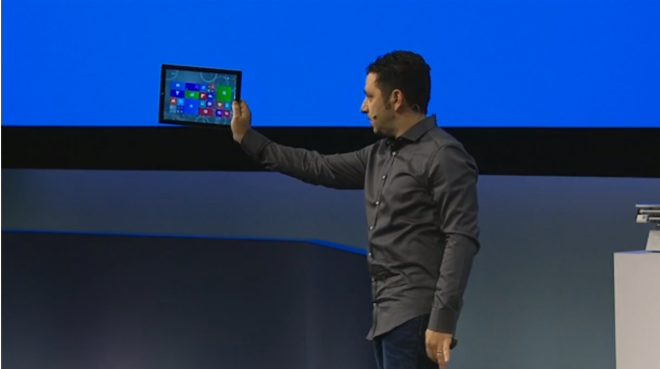 A new touch-enabled version of Photoshop was shown off on stage to display how powerful the tablet is. The tablet also makes use of a digitiser pen input. It also allows you to click a button on the pen which will automatically turn on your tablet and start writing immediately.
A second click of the pen will save the note to your OneDrive account.
The Surface Pro 3 has also redesigned the kickstand which previous iterations of the tablet featured. The new kickstand allows the tablet to lie almost flat and will help users to use it in their laps - something many users have complained about with previous models.
To further aid this, Microsoft has also introduced a new Type cover with Microsoft focusing on mainly improving the trackpad which is now over 60% larger with over 75% less friction.
The new cover also attaches more securely to the screen to make using the device more secure, and fell more like a traditional laptop.
The Surface Pro 3 is availbe to preorder on Wednesday, 21 May and will cost from $799 (£475) though UK-specific pricing has yet to be announced. The Surface Pro 3 will go on general sale in the US and Canada on 20 June and will be available in 26 other countries including the UK by the end of August.