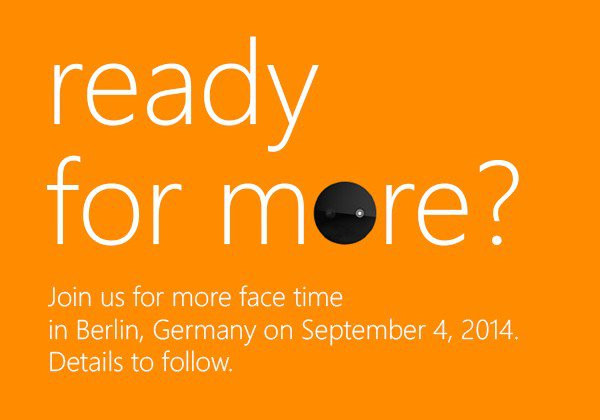 The highly expected newer Lumias from Microsoft viz Lumia 730 and the Lumia 830 are all set to see the light of day, in an event to be held on 4 September 2014, in Berlin, Germany.
According to a Verge report, the Redmond-based company has sent out media invites, depicting a camera-like object in the design template of the media invitation. Microsoft has also given the tagline 'Join us for more face time' in its media invite.
Lumia loyalists throughout the world can expect Microsoft to unveil the Lumia 730 and Lumia 830 in its 4 September event, considering the fact that the company's latest media invite adds meat to earlier rumours that hinted at a probable late August-early September launch for the Lumia 730 that is tentatively codenamed 'Superman' by Microsoft.
Earlier rumours had also hinted at the Lumia 730 being an AT&T (based in the United States) exclusive before its global rollout.
It is possible that Microsoft launches the Lumia 830, during the same 4 September event, as this smartphone, like the Lumia 730, has also managed to grab the eyeballs of Lumia loyalists even before its official release. Lumia 830 is expected to be the first device to be launched by Microsoft under the 'Nokia by Microsoft' branding.
Technical Specifications of Lumia 730, and Lumia 830
The hardware aspects of both Lumia 730 and Lumia 830 have become the subject of rumour mills even before the official launch of the smartphones.
According to the available information, Lumia 730 is expected to succeed Microsoft's popular Lumia 720, and the former is expected to be a 'selfie' smartphone, a fact evident by the device's expected 5MP front camera, which once official should give people obsessed with capturing pictures of themselves more than anything else, a run for their money.
Lumia 730 will in all probability be a 'pure mid-range' smartphone, just like its predecessor. Lumia 730 is expected to incorporate a 4.7in FWVGA display, run the latest Windows Phone 8.1 update 1 OS straight out of the box. The smartphone is likely to be driven by a quad-core Snapdragon 400 processor, along with 1GB RAM.
Microsoft's 'Superman' is also rumoured to incorporate a 6.1MP rear camera, and feature two SIM-card slots for users preferring to use two SIM cards.
Software-wise, Lumia 730 is rumoured to be driven by Nokia's 'Debian Red' firmware, which should naturally feature new enhancements.
Microsoft's Lumia 830, tentatively codenamed 'Tesla' is rumoured to incorporate a 4.5in screen, Windows Phone 8.1 OS, Qualcomm Snapdragon 400 processor, 13MP rear camera, and 1GB RAM.
The smartphone is also expected to feature an outer aluminium frame, supported by a polycarbonate rear structure.
The USP of Lumia 830 should be its 13MP primary camera, and the 'Nokia by Microsoft' branding, once official.
The pricing aspect of both the Lumias is yet to surface, but users can expect both smartphones to be competitively priced.