Apple iOS users can now download an updated version of the Microsoft Outlook Mail application that promises enhanced user experience while navigating through attachments and the personal calendar.
The updated Outlook app can be downloaded from Apple's iTunes store.
The latest Microsoft Outlook 1.1.2 app comes along with the following new features:
Calendar updates claim to have better support for daylight saving time

• Enhanced in-app attachment handling.
• Multiple improvements to help users handle inline images seamlessly.
Multiple stability/performance enhancements.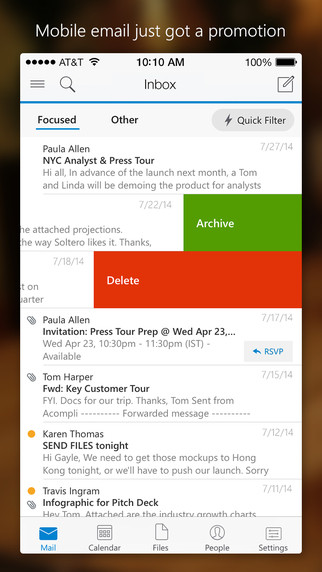 Apart from the above aspects, Microsoft Outlook for iOS comes with the following additional features:
Inbox management: Users can swipe and delete, archive, or schedule messages and emails.
Built-in personal calendar: Outlook includes users' personal calendar and notifies them with appointment reminders. This makes it easier for users to schedule meetings and share them via email.
Inbox filters: Users can filter inbox to show messages that are unread, flagged, or have attachments, with a single tap.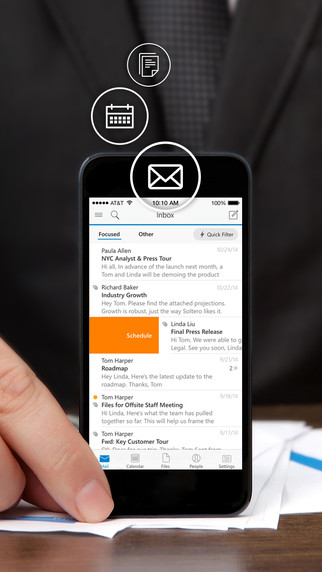 Outlook users can also view and attach any file from email, OneDrive, Dropbox, and other accounts with just a few taps, along with being able to send large files without actually downloading these on to the smartphone.
Technical aspects of Google Maps 4.4.0 for iOS:
Version: 1.1.2
Size: 24 MB
Languages: English, Bokmål, Norwegian, Catalan, Croatian, Czech, Danish, Dutch, Finnish, French, German, Greek, Hungarian, Indonesian, Italian, Japanese, Korean, Malay, Polish, Portuguese, Romanian, Russian, Simplified Chinese, Slovak, Spanish, Swedish, Thai, Traditional Chinese, Turkish, Ukrainian and Vietnamese
App developer: Microsoft Corporation.
App optimisation: Optimised for Apple iPhone and iPad.
App Compatibility: Requires iOS 8.0 or later. Compatible with iPhone, iPad, and iPod touch.
App Optimisation: Optimised for iPhone 5, iPhone 6, and iPhone 6 Plus.