Microsoft Surface Pro gets price cut in US: Multiple tablet variants available at $150 discount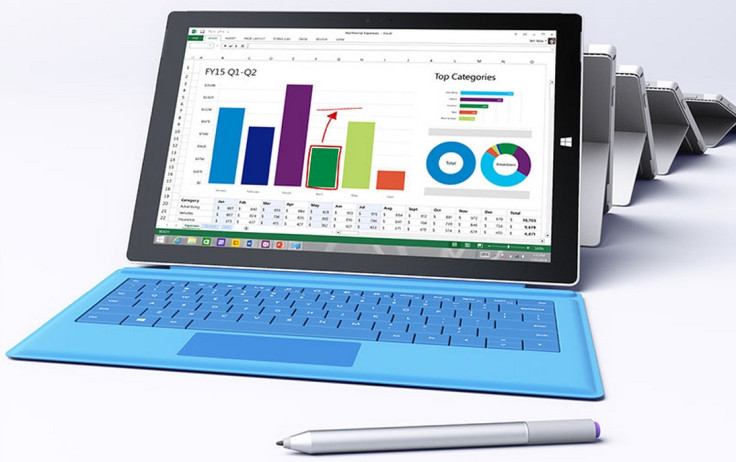 Microsoft's Surface Pro tablet, launched in 2014, is now available at reduced prices in the US and the reduction promises savings of up to $150.
The latest deal, a Microsoft initiative listed on the Redmond-based company's online portal, offers the Surface Pro 3 at the following new/reduced prices:
A 128GB variant of the Surface Pro 3 tablet driven by an Intel Core i5 processor, and with 4GB RAM on board is available at $899, $100 down from its original $999 price tag.
A 256GB Surface Pro 3, driven by an Intel Core i5 processor and with an 8GB RAM has now received a $150 price cut and is available at $1,149, in comparison to its original $1,299 price.
An Intel Core i7 256GB Surface Pro 3, having an 8GB RAM on board is now available for $1,399, which is a $150 price cut from the original $1,549.
A 512GB Intel Core i7 Surface Pro 3 tablet, running on a 1.7GHz Intel Core i7 processor and having 8GB RAM can now be purchased for $1,799, which is a $150 cut-down from the slate's original $1,949 price.
Prospective buyers of the Surface Pro 3 can navigate to Microsoft's online portal, to check out the above deals.
Key technical specifications of Microsoft Surface Pro 3
12in ClearType Full HD display, with a resolution of 2160 x 1440
Windows 8.1 Pro operating system
Intel Core i3, Core i5 and Core i7 processors in 64GB, 128GB, 256GB and 512GB internal storage variants respectively
4GB/8GB RAM variants
64GB, 128GB and 256GB internal storage variants
5MP front and rear cameras
Bluetooth 4.0, Wi-Fi and microUSB connectivity
© Copyright IBTimes 2023. All rights reserved.