A fresh bunch of screenshots of the upcoming update to Windows 8.1 have leaked revealing new features.
The screenshots have been obtained and published by the Russian site Wzor.net, which are reportedly the test version of the Windows 8.1 2014 update expected sometime this year.
However, the leaked screenshots of the upcoming update do not belong to the Windows 9, also known as Threshold. The Windows 9 update has been rumoured to come in April 2015, although Microsoft might reveal some ideas about it at its Build Developer Conference scheduled to be held from 2 to 4 April at San Francisco.
According to the latest disclosure, the new update to Windows 8.1 will be somewhat similar to a service pack and will help integrating the desktop Windows 8.1 with the Windows Phone 8.1, notes the Register.
Besides, the latest update to Windows 8.1 is expected to bring a few changes. If the leaked screenshots are to be believed, then the Windows 8.1 2014 update is expected to add the user interface, previously known as Metro.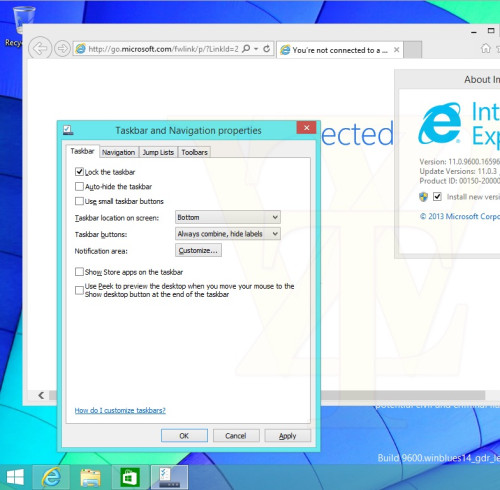 As seen in the above screenshot, it looks similar to that of the usual Windows 8.1. But it has a green shopping-bag icon that looks like the Live Tile, which used to launch the Windows Store app from the start screen. There is also a new checkbox displaying icons for Windows Store app at the bottom half of the traditional taskbar and navigation properties panel.
The Windows Store apps are expected to appear in the taskbar alongside running desktop applications, while making it easier for PC users with traditional mice and keyboards to switch to them.
Also, the new update will enable users to permanently pin Metro apps to the taskbar so that users can launch them from the taskbar.
The rumour is that the new Windows 8.1 update will be a free one and Microsoft will finish working on it before March for an April release.