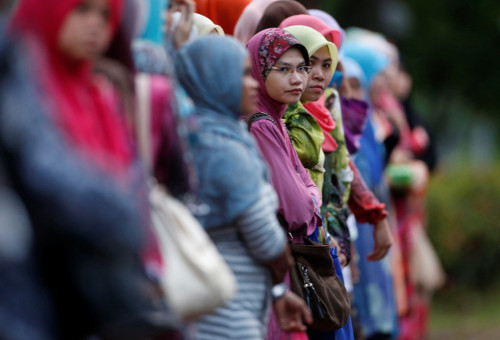 Decreasing purchasing power in Malaysia, particularly among middle-class households, could pull down the nation's private consumption growth in 2014, potentially impacting GDP growth in Southeast Asia's third-largest economy.
Inflation in Malaysia could accelerate to 2.9% this year and to a seven-year high of 3.3% in 2015, according to Bloomberg surveys, when the government could roll out a new consumption tax.
In contrast, the Malaysian Employers Federation predicted lower salary increases and bonuses across the private sector in 2014, amid rising business costs.
Rising living costs and slower pay hikes have already forced the country's sizeable middle-class population to limit spending.
Dwindling spending power could hit private consumption growth by 0.9 percentage point in 2014, according to Alliance Financial and Malaysian Rating.
"There will be some pain in moving towards market-based pricing of the currently subsidised-costs of essential food items, fuel and energy," said Suhaimi Ilias, chief economist at Maybank Investment Bank. "Over the long term the economy will gain from a generally more efficient economy."
"The faster inflation rate amid slower income rise erodes purchasing power, which will impact the consumer spending part of GDP," Suhaimi told Bloomberg. He forecast the central bank would leave interest rates unchanged even if inflation touched 3.5% in 2014, to prevent further deflating consumer sentiment.
"The risk to growth is pretty much coming from consumers," Suhaimi added.
"What we earn cannot cope with the rising cost of living," said Selena Tay, a freelance writer supporting her elderly parents. Tay said she planned to stop purchasing bags, clothes and shoes, to save up for food.
"The government is strangling us. We are now scared to read the daily newspaper because every day, the price of something is going up," Tay added.
"My biggest worry is, financial difficulty will lead to ethnic tension," said Wan Saiful Wan Jan, chief executive at the Institute for Democracy and Economic Affairs, a Kuala Lumpur-based think tank.
"You go to a Malay area in Kuala Lumpur, Kampung Baru or Sentul, you already get the sentiment that they are accusing the Chinese of taking away all their economic wealth. If you go to poorer Chinese area in Cheras, Balakong, the sentiment you'll get is the ethnic Chinese will say of course they are poor, because the ethnic Malays are the ones being helped by the government," Wa Saiful added.
Price Increases
Prime Minister Najib Razak's government hiked electricity tariffs by an average 15% to 16.9% earlier in the month.
Earlier in 2013, the government increased sugar prices by 14% and the prices of gasoline by 11%.
The moves are aimed at increasing the government's revenues to plug a budget gap and bolster the country's current account, particularly after Fitch Ratings cut the country's credit outlook to negative in July 2013.
Malaysian families that earned 3,000 ringgit to 4,999 ringgit a month made up 27.8% of all households in 2012, up from 4% in 1989, government data showed.
Some 39% of all households were classed below that bracket. The remainder of the middle-income group and the highest income groups - individuals earning 5,000 ringgit and above - account for 33.6%.