Migrant boat drifting away from Thai waters as Malaysia waits to turn it back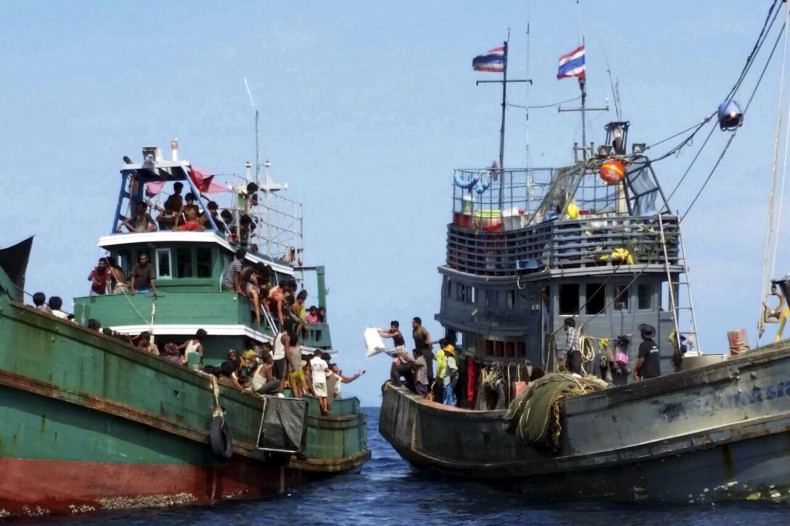 A boat carrying more than 300 migrants from Bangladesh and Myanmar is being sent away from Thai waters towards Malaysia as authorities in Kuala Lumpur are gearing up to turn them back in the worsening southeast Asian migrant crisis.
The Thai navy's action comes despite tentative proposals by the government to set up temporary shelters for the refugees. Nevertheless, the Thai government has strongly denied reports that they would provide permanent shelter for the Rohingya migrants.
The Thai navy had dropped food and water packets before sending the boat away.
"We cannot welcome them here. If we continue to welcome them, then hundreds of thousands will come from Myanmar and Bangladesh," Malaysian Deputy Home Minister Wan Junaidi Jaafar told CNN.
There are many young children on board the vessel and scores of them are suffering from dire hunger and thirst. Many have already died during the perilous journey, said a weak-looking woman.
"We haven't had anything to eat for a week, there is nowhere to sleep ... my children are sick," 27-year old Saijida, who had brought four young children in the boat, told AFP.
Some reports suggest the boat packed with desperate Rohingya refugees was en route to Indonesia seeking shelter after being turned away by Malaysian forces.
Alongside this migrant vessel, another boat crammed with scores of Bangladeshis and Rohingyas is reported to have sunk in mid-sea.
About 700 people have been rescued by fishing boats after the vessel sank off the coast of Aceh province.
"According to initial information we got from them, they were pushed away by the Malaysian navy to the border of Indonesian waters," said Sunarya, the police chief in Langsa city.
Indonesia has also been setting up makeshift arrangements to accommodate the rising number of migrants from other southeast Asian nations.