These photos show the cramped, filthy conditions onboard two wooden fishing boats used to traffic Rohingya and Bangladeshi migrants to Indonesia and Malaysia. Discarded items of clothing are scattered across the deck and hold, along with bowls of rice and water.
It is thought that some of the migrants may have spent three months on rickety vessels like these.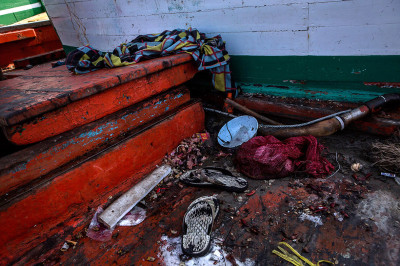 Several thousand migrants, many of them hungry and sick, are adrift in south-east Asian seas in boats that have been abandoned by smugglers following a Thai government crackdown on human trafficking, the United Nations has said.
Thai authorities are enforcing a long-held policy to push boats back. The policy involves offering food, water fuel and medical assistance to migrant boats but preventing them from landing.
There has been a surge in migrants from impoverished Bangladesh and Myanmar to Malaysia and Indonesia following the clampdown in Thailand, usually the first destination in the region's people-smuggling network.
A senior Malaysian maritime official also said that any more boats trying to land would be turned back. "We don't allow them in," said First Admiral Tan Kok Kwee, northern region head of the Malaysian Maritime Enforcement Agency. "It's a policy matter."
Indonesia has also turned migrants away, saying the passengers had wanted to go to Malaysia, not Indonesia. They provided food, water and medical supplies to around 500 passengers on a boat off the coast of Aceh on Monday 11 May, before sending the vessel toward Malaysia.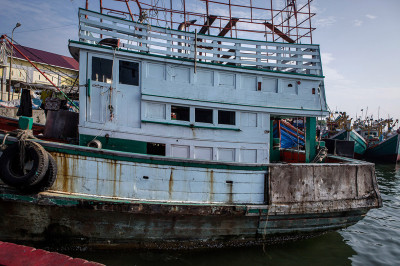 In recent weeks the smugglers have fled wooden trawlers for fear of being caught in a massive regional crackdown on human trafficking syndicates. In the process, they have abandoned their human cargo and set them adrift in the sea.
Jeffrey Savage, from the UN High Commissioner for Refugees, said: "What we're hearing from these people is that they've been stuck out at sea for weeks and months and then the smugglers just deserted them. They left them with very little food and water, no fuel for the engines and they've been drifting. It's something that is really a massive humanitarian crisis waiting to happen."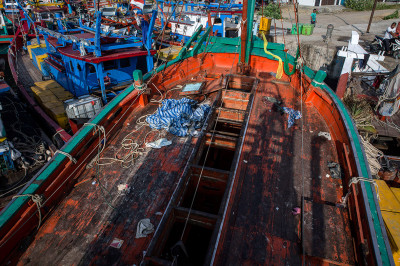 Those aboard one boat several kilometres off Malaysia's Langkawi Island sent out a distress call, saying they needed to be rescued after four days without food or water . They reported seeing a patrol boat with flashing lights approach, and then slowly pass them by.
Chris Lewa, director of the non-profit Arakan Project, was on the phone with them when it happened, saying she heard their first hopeful cheers turn into sobs and screams.
In some cases, the Rohingya or Bangladeshis have succeeded in commandeering boats, bringing them as close to land as possible and then swimming the rest of the way.
Many of the arrivals are Rohingya, a stateless Muslim minority from Myanmar described by the United Nations as one of the most persecuted minorities in the world.
In the last three years, attacks on Rohingya have left 280 people dead and forced 140,000 others into crowded camps just outside Sittwe, the capital of Myanmar's Rakhine state, where they live under abysmal, apartheid-like conditions, with little or no opportunities for work.
That has sparked one of the biggest exoduses of boat people the region has seen since the Vietnam War, with an estimated 100,000 men, women and children boarding ships in search of better lives in other countries since June 2012, according to the UN refugee agency.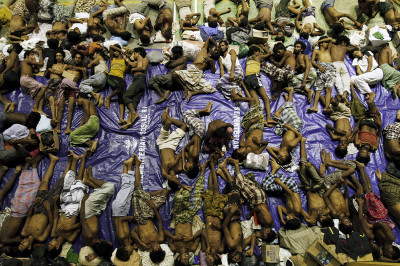 An estimated 25,000 Bangladeshis and Rohingya boarded rickety smugglers' boats in the first three months of this year, twice as many in the same period of 2014, the UNHCR has said.
Thousands of Rohingya boat people who have left Myanmar in the past several months have yet to reach their destinations, say relatives.