Germany is becoming increasingly divided over the refugee crisis. While Germans have undoubtedly done more than any other Europeans to make Syrian refugees feel welcome, support for right-wing xenophobic parties is on the rise.
Getty Images photographer Alexander Koerner visited a huge donations centre for migrants and refugees at the Messe trade fair grounds in Hamburg. The German public has donated so many items that it looks like an Amazon distribution centre. Hundreds of volunteers sort clothing, toys and shoes among towers of boxes in a hangar-sized hall.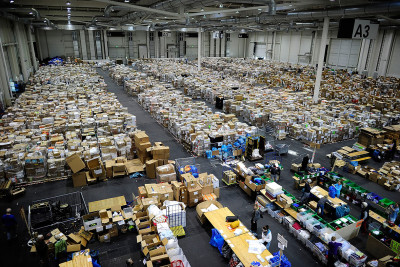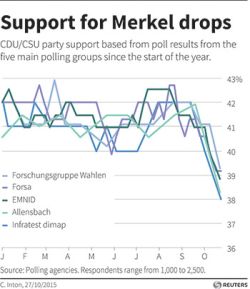 Between 800,000 and one million asylum seekers are expected in Germany this year, and Chancellor Angela Merkel's popularity has fallen. Polls show many voters believe she is taking too soft a line on allowing them into the country. She has been criticised for opening Germany's borders to Syrian refugees. Many believe this has encouraged migrants from other countries to choose Germany.
Support for Merkel's conservatives has fallen to its lowest level in three years, while the anti-immigrant Alternative for Germany (AfD) party is gaining support. Merkel has faced calls from some of her own conservatives to tighten Germany's border controls and turn away refugees arriving from Austria – pressure she has resisted. The head of Germany's police trade union said the country needed to erect a fence along its border if it was serious about stemming the flow of migrants.
Many Germans are angry that they are expected to shoulder the responsibility for the migrant crisis, when other EU countries seem to be turning a blind eye.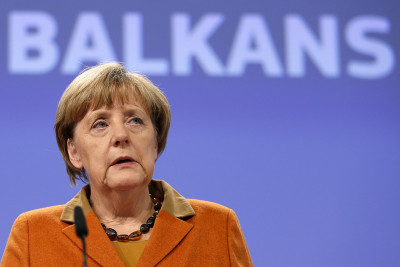 German towns are struggling to house and look after migrants. With the approach of winter, authorities are scrambling to find homes for the thousands of refugees streaming into Germany every day. In desperation, they have turned to sports halls, youth hostels and empty office buildings.
Temperatures have dropped to near-freezing, and snow has already fallen in some parts of Germany. At a sprawling camp in the German town of Celle, many refugees are living in tents. Michael Lukas, a spokesman for Malteser, the aid organisation that runs the camp, says the tents are not winter-proof and "too thin" to be permanent homes. They are being replaced by huts, but such is the demand that there is a shortage.
Charities are concerned that the cold and overcrowding mean illnesses will spread among refugees weakened by arduous journeys. Herbert Hessler, a doctor at the medical practice in Celle's tent city, said two-thirds of refugees there have caught a cold. One problem is that washing hung around the camp cannot dry properly so people get ill from wearing damp clothes, he said.
"People told me I was going to paradise and Auntie Merkel would make everything good," Khaldoon Kareem, 27, a dentist from Iraq, told Reuters. "When I saw the tent I thought, Auntie Merkel is bad."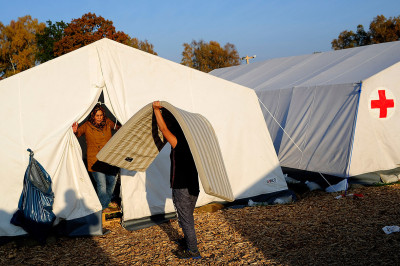 Berlin is hastily constructing temporary housing facilities in a hangar in the German capital's former Tempelhof Airport, a Nazi-built structure that served as a lifeline for West Berlin during the post-war Soviet blockade.
During a visit to Greece, German foreign minister Frank-Walter Steinmeier has said that European countries need to form a common border protection agency, negotiate with Turkey and find a way to deal with Syrian president Bashar al-Assad, in order to end the conflict.
Greek Prime Minister Alexis Tsipras slammed the level of debate among European Union governments in dealing with the migrant crisis. "I feel ashamed as a member of this European leadership, both for the inability of Europe in dealing with this human drama, and for the level of debate at a senior level, where one is passing the buck to the other," Tsipras told parliament.
Additional reporting by Reuters.