Migrant crisis: Angela Merkel meets with Turkish leaders on EU action plan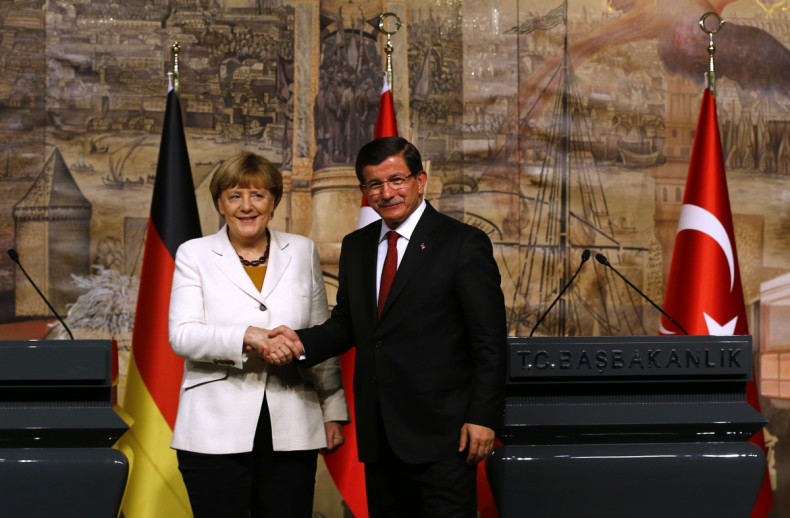 German Chancellor Angela Merkel held talks on Sunday (18 October) with Turkish leaders in Istanbul, offering Ankara support in exchange for help stemming the flow of migrants and refugees to Europe. During meetings with President Recep Tayyip Erdogan and Prime Minister Ahmet Davutoglu, Merkel promoted a European Union-drafted joint action plan that would give Turkey aid and re-energise EU membership talks in return for improved asylum and documentation procedures.
According to the EU plan, Turkey would stand to gain an aid package of up to 3.4bn euros (£2.5bn) in funding for the 2 million refugees already in the country, as well as easier access to EU visas for Turkish citizens. In return it would implement the EU changes, which include bolstering the number of border and coast guards in order to prevent people from entering Turkey, as well as stopping migrants or refugees who are already in the country from continuing on to Europe.
But Turkey has already refused previous drafts of the deal, with Foreign Minister Feridun Sinirlioglu saying on Friday (16 October) that it was "unacceptable" and "insignificant". The situation has not been helped by the timing of Merkel's visit, which comes just two weeks before the country holds parliamentary elections and amid continuing criticism of Turkey's human rights record.
Speaking on Sunday, the German leader said she was ready to help drive forward Turkey's European Union accession process, which Ankara has trying to secure for many years. "How can we organise the accession process more dynamically?" she asked during a news conference. "Germany is ready this year to open Chapter 17, and the make preparations for [chapters] 23 and 24. We can talk about the details."
Earlier this month, Erdogan criticised the EU for failing to do enough to assist in what is now the region's biggest refugee crisis since World War II. "While we host 2.2 million refugees, Europe as a whole houses less than 250,000 refugees in total," he said in comments reported by Hurriyet newspaper. "What do they say to us? ... 'Oh, my, don't open your doors, don't let them reach us.'"
Turkey is still reeling from the aftermath of twin suicide bombings targeting a peace rally in the capital Ankara, killing 102 people. Unconfirmed reports suggest the 10 October attacks were carried out by a Turkish cell of Islamic State (Isis). Apart from the migrant crisis, Merkel and the Turkish leaders will be discussing the fight against terrorism and the civil war in Syria.