Turkey wins favourable terms from EU in exchange for helping to control migrant flows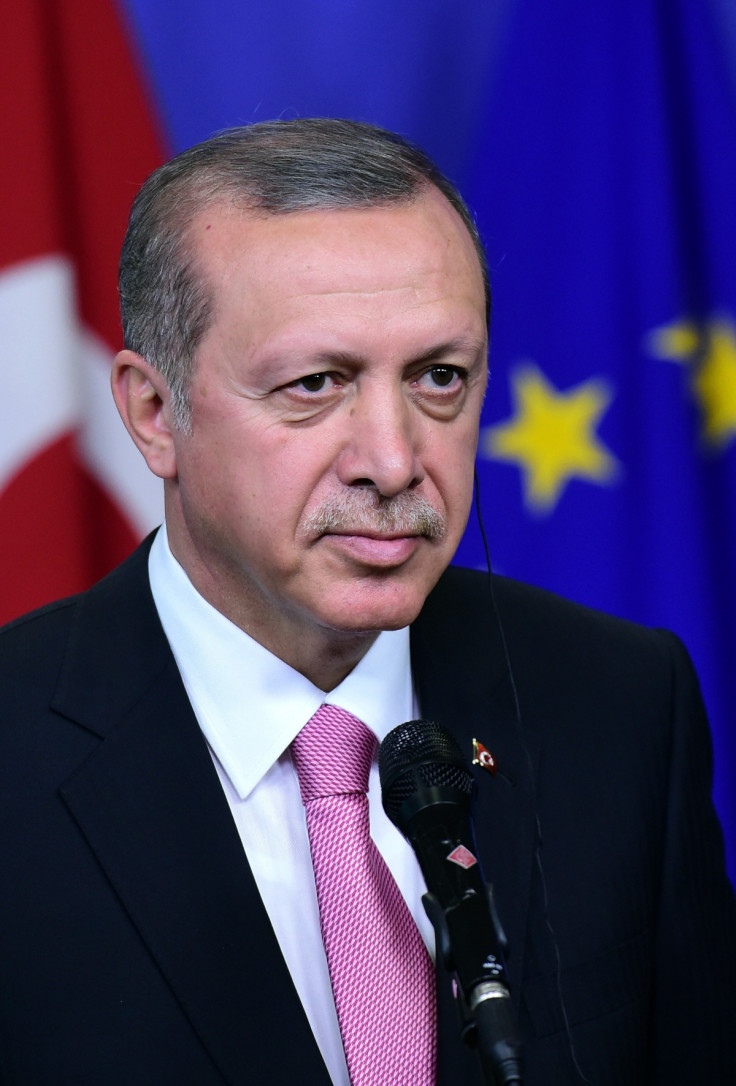 Turkey's President Recep Tayyip Erdogan addresses a brief statement as he arrives to meet with European Commission President Jean-Claude Juncker
Getty
Turkey has managed to carve out favourable terms from the European Union in exchange for help in controlling the flow of migrants to the bloc from Turkey to Greece. The action plan agreed includes visa free access for Turks visiting Europe and re-visiting Ankara's EU membership talks.
A lot of the sweeteners sought by Turkey cover items that Ankara has been seeking from the EU for years. Turkey's demands require the explicit approval of EU member states, which may raise some concerns, especially over the some issues. However, a summit of EU leaders meeting in Brussels welcomed the migration action plan on Thursday.
Turkey is also seeking €3bn in fresh funds, the unblocking of five chapters in Turkey's EU membership talks and visa free access for 75 million Turks to the Schengen border-free area from 2016. The five chapters currently frozen cover justice, fundamental rights, energy and education. The EU has already agreed in principle to open talks on monetary policy.
It is understood that EU officials involved in the talks with Turkey's President Recep Tayyip Erdogan have made no promises beyond the original €500m offer. German Chancellor Angela Merkel however backed Turkish demand for €3bn, saying: "In the future we have to be stronger in burden sharing if we think of the fact that they [Turkey] have been virtually left alone in the past."
Turkey is also seeking inclusion in the EU's safe list which means it would make it easier for member states to reject Turkish asylum seekers. In exchange for its list of demands, Turkey will strengthen its border controls, including boosting cooperation with Greece which has seen a massive influx of migrants. European Commission President Jean-Claude Juncker said talks over the sum to be given to Ankara would continue over the coming days.
Erdogan has also agreed, as part of the deal, to take back third-country asylum seekers who enter the EU from Turkish territory and offer the 2 million Syrian refugees currently living in Turkey, the legal right to work in the country, thereby reducing the lure of seeking refuge in Europe.
The Financial Times said that of the estimated 350,000 asylum seekers who have tried to enter the EU since January, Turkey had only stopped 50,000 at its borders. EU member states have been working hard to woo Turkey to help the bloc stem the flow of Middle East refugees.
Merkel is scheduled to visit Ankara on Sunday. Her trip is aimed at working with Erdogan in drawing up a schedule to implement the agreed action plan.
There are however concerns by other member states over the demands made by Turkey. French President Francois Hollande insisted that any relaxation in visa rules or Turkey's accession talks has to meet certain conditions. "We insisted that this visa liberalisation will happen on an extremely precise and monitored basis ... I insisted on this so that there is no misunderstanding or ambiguity," he said. Turkey is the only membership candidate that has not been given visa benefits.
© Copyright IBTimes 2023. All rights reserved.