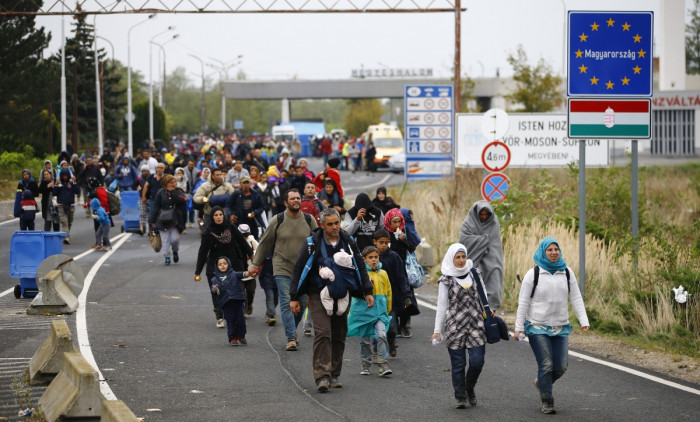 A Far Right politician in Austria has come under fire for posting a video to Facebook in which he demonstrated to migrants the 'correct way' to behave around local women, using a blonde mannequin. Armin Sippel, from the Nazi-linked Austrian Freedom Party, gropes the mannequin in an apparent demo to migrants of behaviour that would not be tolerated in the country.
The video was made in response to reports of women being attacked in Cologne and other cities, with widespread claims that some of the attackers consisted of recent migrants. In Germany, some swimming pools have banned migrants from attending mixed sessions due to sexual harassment of women. Some commentators believe migrants - mostly Muslims from countries where women are often hidden away and treated as second class citizens - find it difficult to adapt to Western cultures.
Sippel explains that "grabbing a woman by the butt or bosom" is unacceptable in Austria. At the end of the one-minute-long video, he holds up a sign saying: "Keep your fingers off our women."
Defending the video after posting, 36-year-old Sippel, from Graz, said on Facebook: "A debate on this unpleasant topic of sexual assaults is essential, but should be good mannered."
However there was outrage on social media at the content of the video, with some women saying sexual harassment wasn't only caused by migrants. It was also pointed out that the Arabic word for "no" was misspelled in a sign displayed throughout. Sippel finally took down the video, saying: "As a result of the extremely aggressive personal attacks, I decided to take it offline."
There has been a backlash against the migrant influx in Austria, with Austrian Freedom Party candidate Norbert Hofer narrowly missing out on becoming President after the country's recent May 2016 election. Independent candidate Alexander Van der Bellen achieved a narrow victory on a pro-EU ticket.