Migrant crisis: Hungary PM Viktor Orban announces new armed razor wire fence with Croatia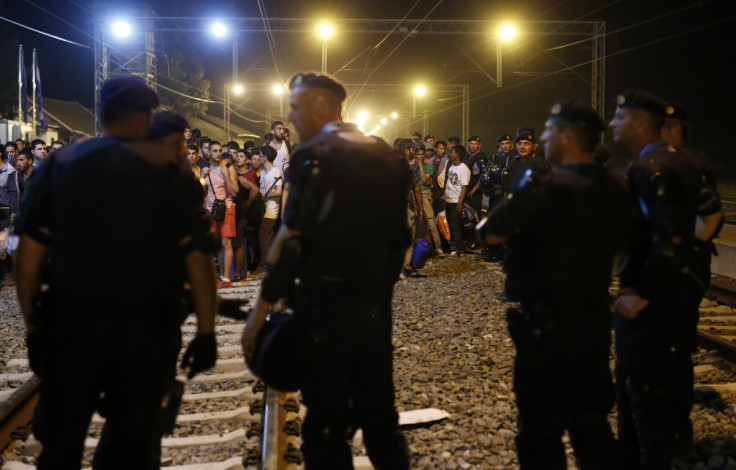 Hungary has started to build a 25-mile (41-km) razor wire fence with Croatia in another radical bid to stop an influx of desperate migrants to the country. Hundreds of soldiers are also being deployed at the scene, causing further criticism from Croatia and aid agencies.
"We must implement the same measures as on the Serbian-Hungarian border," Hungary's far-right prime minister Viktor Orban said in reference to the 10-ft (3.5-m) fence built on the country's frontier with Serbia which diverted the flow of migrants towards Croatia and Slovenia.
The eastern European country also passed a strict emergency law and empowered its police and military to deal with arriving asylum seekers. The resulting violent crackdown on refugees by security forces has provoked widespread international condemnation. In particular, Hungary's decision to launch tear gas and fire water cannon at refugees trying to cross its border was criticised by the UN high commissioner for human rights, Zeid Ra'ad al-Hussein.
" The images of women and young children being assaulted with tear gas and water cannons at Hungary's border with Serbia were truly shocking," he said.
But Orban was undeterred by criticism and announced the deployment of hundreds of troops on the border to stop the western Balkans migrant route.
"Forces are being redeployed, 600 soldiers are already at the scene, 500 will arrive there in the course of the day, and several hundred at the weekend," Orban said. "Two hundred police have been assigned to the Croatian border. There will be no sandhill or molehill to hide behind, we will defend our borders."
The development came as Croatia closed its borders as authorities struggle to cope with the arrival of more than 13,000 refugees in just two days. Only one of Croatia's eight border crossings with Serbia remained open overnight, Reuters reported, after flows of people began arriving in the country two days ago. Croatia, which had largely avoided the attention of refugees moving westwards, found itself overwhelmed after neighbouring Hungary shut its own borders.
Croatia's PM Zoran Milanovic said that the country cannot register people anymore and will not accept the burden of thousands of migrants any longer.
"We cannot register and accommodate these people any longer," he said. "They will get food, water and medical help, and then they can move on. The European Union must know that Croatia will not become a migrant 'hotspot'."
Now that Croatia's border with Serbia is closed, authorities expect thousands of people to gather at the crossing with Slovenia on Friday 18 September.
© Copyright IBTimes 2023. All rights reserved.