Croatia, the latest nation to face the brunt of Europe's migrant crisis, has closed its borders as authorities struggled to cope with an influx of more than 11,000 refugees arriving mainly from Syria.
Only one of Croatia's eight border crossings with Serbia remained open overnight, Reuters reported, after flows of people began arriving in the country two days ago. Croatia, which had largely avoided the attention of refugees moving westwards, found itself overwhelmed after neighbouring Hungary shut its own borders.
Hungary's right-wing government passed a strict emergency law and empowered its police and military to deal with arriving asylum seekers. The resulting violent crackdown on refugees by security forces has provoked widespread international condemnation.
At Croatia's Bajakovo crossing point on the highway between Belgrade and Zagreb, traffic was moving freely. Prior to the unprecedented arrival of the migrants, Croatia had intended to bus those arriving to Zagreb for asylum processing.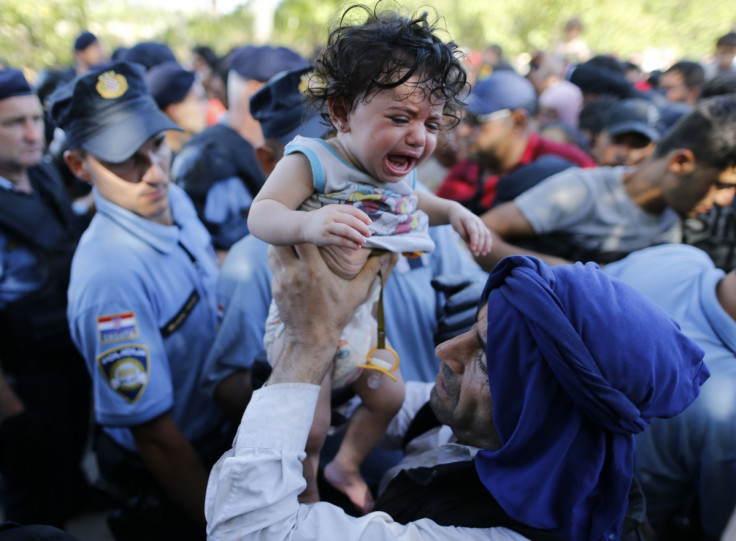 At the border town of Tovarnik, scuffles broke out as police tried to get women and children on to buses to the capital.
However, the majority were able to avoid the police, breaking through their lines and trying to make their way to Slovenia. Slovenia itself has stopped all trains from Croatia after one train carrying 150 migrants was stopped at the Slovenian side of the border. It has now stepped up its checks and launched helicopter and land patrols on the frontier.
Further down the line, the consequences of the series of border closures was seen as families were left stranded between Serbia and Croatia without shelter.
Croatian interior minister Ranko Ostojic said his country was full to capacity and would close its border with Serbia if the flow of migrants continued at the same rate. The president of Croatia put the country's military on alert to be ready to join the effort.
European Council president Donald Tusk has summoned EU leaders to an extraordinary summit on Wednesday 23 September to discuss migration and a scheme to redistribute 120,000 asylum seekers across the continent, as the situation continues to escalate.