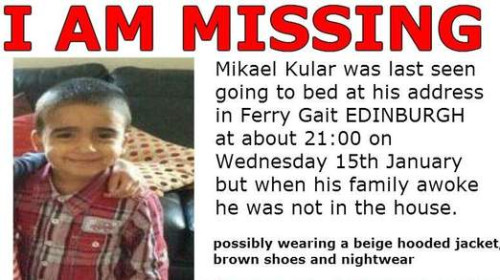 A major ground, air and sea search is underway as fears for a missing three-year-old boy grow, as temperatures plunged to just above freezing.
Mikaeel Kular went missing from Ferry Gait Crescent, Edinburgh, after he was put to bed by his mother at around 9pm on Wednesday. He has not been seen since.
His mother raised the alarm after she went to wake him at 7.15am and found him gone. His jacket and shoes were also missing.
A helicopter search, dog teams and dozens of volunteers are taking place, searching the area of Drylaw, Edinburgh. Coastguard and lifeboats are scouring the shoreline half a mile away.
Police have said they remain "optimistic" but are becoming increasingly concerned as time passes.
A group of concerned volunteers will also join the search today, who will report to a neighbourhood centre in West Pilton Gardens, in the north of the city. The group will comb the area for the missing child.
The charity Missing People will show Mikaeel's face on screens in railway stations and other public areas.
Yesterday evening, police issued a new picture of Mikaeel in the coat he was believed to be wearing when he went missing. It shows Mikaeel wearing a beige Park-style coat, while playing with a toy tractor. He is described as being of Asian appearance, two feet tall and of slim build.
He may also have been wearing black gloves with multi-coloured fingers, dark navy blue jogging bottoms, a grey pyjama top featuring an embroidered turquoise dinosaur on the chest and brown Clark shoes with two Velcro straps. Mikaeel has a faded scar on the bridge of his nose and a sore on the left hand side of his mouth.
Supt Liz McAinsh urged anyone who may have seen Mikaeel to contact police.
McAnish told a news conference: "I would ask local residents to think about their own homes, their gardens, their buckets, their outbuildings. Anywhere you think a three-year-old boy might be. Keep your eyes open in parks as well.
"We are using all the resources at our disposal to find this boy."
Police have also activated the national Child Rescue Alert system in a bid to help find the missing three-year-old. The alert ensures anyone who calls 0300 200 0200 with information on Mikaeel or his whereabouts will be answered by a dedicated member of staff.