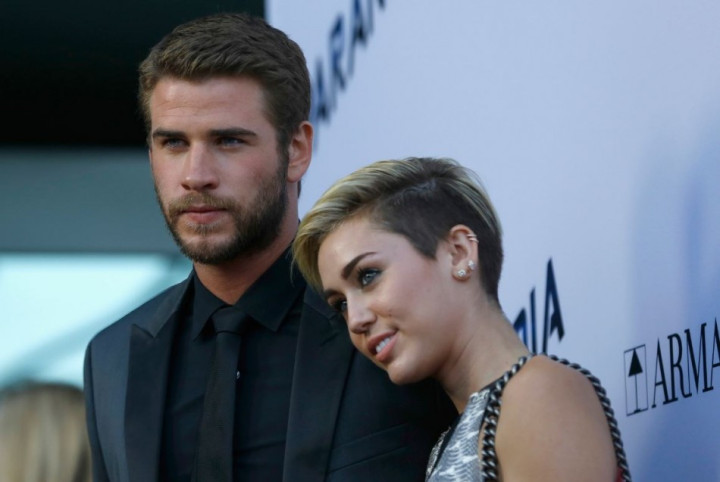 Pop star Miley Cyrus has admitted that she is still in love with former fiancé Australian actor Liam Hemsworth.
During an interview with Australia's Sunday Night, the 21-year-old former Disney star expressed her feelings for the 24-year-old Hunger Games star.
"I love Liam, Liam loves me," she told reporter Chris Bath, according to Mail Online.
Hemsworth and Cyrus met on the set of Nicholas Sparks film The Last Song, in 2009. In 2012, Hemsworth proposed to Cyrus with a 3.5-carat Neil Lane diamond ring.
The couple made their last public appearance together at the premiere of his film Paranoia at the DGA Theater in Los Angeles, before Hemsworth officially announced his break up with Cyrus.
Meanwhile, she also talked about her single Wrecking Ball, which was believed to be about her relationship with Hemsworth.
"It's about finding yourself and sometimes you have to separate yourself from everyone. I just had to become this person who is sitting in this chair right now. If I didn't I just felt like there was something that was going to explode and I had to set myself free," she said.
Previously, in an interview with Elle magazine, the We Can't Stop singer had confessed that she thought she would die without her Disney career and Hemsworth.
"When I went through a really intense breakup — you know, I was engaged — and when I was with him [Hemsworth] or when I was on Disney, the thing that gave me the most anxiety was not knowing what to do with myself when Disney wasn't there to carry me anymore or if I didn't have him.
"And now I'm free of both of those things, and I'm fine. Like, I lay in bed at night by myself and I'm totally okay, and that's so much stronger than the person three years ago, who would have thought they would have died if they didn't have a boyfriend," Cyrus said.