Miley Cyrus has put paid to rumours that her engagement to Liam Hemsworth is off as she went to a New York Knicks game with her ring very clearly on display. The 23-year-old was accompanied by her older sister Brandi, 28, as they watched the match against the Cleveland Cavaliers at Madison Square Garden.
Debuting her new platinum blonde locks and heavy fringe, she was also rocking the diamond band given to her by the Hollywood heartthrob on her ring finger.
The Hollywood couple's relationship status has been the focus of ongoing speculation following reports that the pair's endless feuding has prompted Liam to break-off their engagement for a second time. The pair first began dating in June 2009 after starring together in romance drama The Last Song. Three years later they announced their engagement, but they ended their relationship in September 2013.
In January the former Disney star was seen flashing her Neil Lane designed diamond ring after the A-list couple reconnected in Australia. And the pop star flashed the rock again in late February as she landed in New York City to start filming a Woody Allen movie. However, more recently, she appears to have taken off the rock amid reports that Liam has had enough of her excessive marijuana usage.
However, with the ring back on, it seems the pair have resolved their differences. A source told People magazine the former wild child has toned down her lifestyle and is preparing to settle down into married life. "For the past few weeks, they have lived a very secluded life. When they are not working, they rarely leave home. They often have people over for dinner, and Miley has gone from a wild child to a housewife."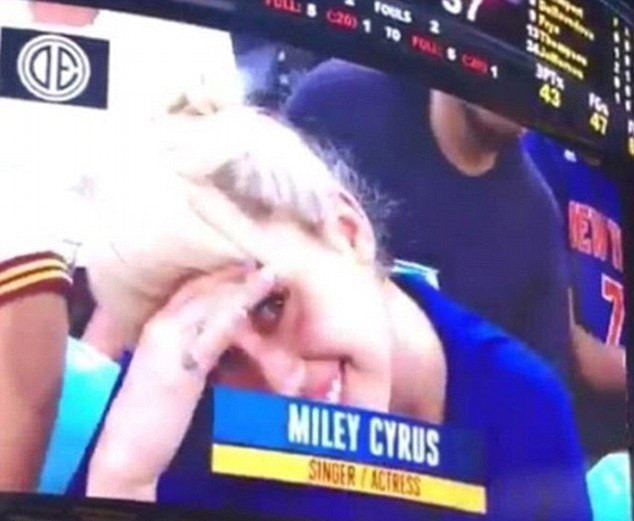 Miley, who was recently confirmed as a judge on Season 11 of NBC's hit show The Voice, was caught on the big screen. She shared a photo with her 39.4 million Instagram followers after the game captioning it: "Embarrassed of all embarrassed @nyknicks @cavs."
After The Cavaliers beat the Knicks 107 to 93, her sister Brandi, also posted an Instagram picture writing: "Had the most fun tonight at the @nyknicks/ @cavs game with my sissy! Big win for my team too!! #cavsknicks #nyc."
Miley is currently in New York City to film her new Woody Allen written and directed TV series for Amazon.