Miley Cyrus and Liam Hemsworth may have called time on their relationship over her love of marijuana. Hemsworth, 26, had reportedly given Cyrus an ultimatum – its him or the pot.
While she is known for her outlandish style and outrageous stage performances, it's Miley's regular use of weed that has the Hollywood star contemplating ending the relationship once and for all. A source told InTouch Weekly: "They recently had a huge fight. Liam told Miley he wants her to quit pot. He can't believe how often she gets high. Every day Liam comes home and the entire house reeks of weed. He's so annoyed. Miley still smokes a ton of pot and it drives Liam crazy."
The pair first began dating in June 2009 after starring together in romance drama The Last Song. Three years later they announced their engagement, but they ended their relationship in September 2013.
In January the former Disney star was seen flashing her Neil Lane designed diamond ringafter the A-list couple reconnected in Australia. And the pop star flashed the rock again in late February as she landed in New York City to start filming a Woody Allen movie.
While there's no doubting her love for Liam, Miley's love of marijuana is legendary. During her Bangerz tour, the stage and her costumes were emblazoned with marijuana leaf motifs. A proud stoner, she unabashedly posts selfies brandishing a bong or smoking a joint.
While hosting the 2015 MTV Video Music Awards, the 22-year-old famously closed the show with a performance of a new song about – you guessed it – marijuana. She reportedly also lit a joint backstage and passed it around in the press room.
The display had the singer facing criticism for glorifying marijuana, but she didn't stop there. Speaking at a London concert she made an extraordinary speech extolling the virtues of marijuana and urging her young fans to give up cigarettes and start smoking doobies instead.
Reports that she wanted to have a weed inspired wedding might have been the final straw for Hemsworth. It was no surprise that the Wrecking Ball singer was planning to have an unconventional wedding, but the presence of an open marijuana bar and her dream "for everyone to get high together," unsurprisingly might not have sat well with her future husband and her would-be in-laws.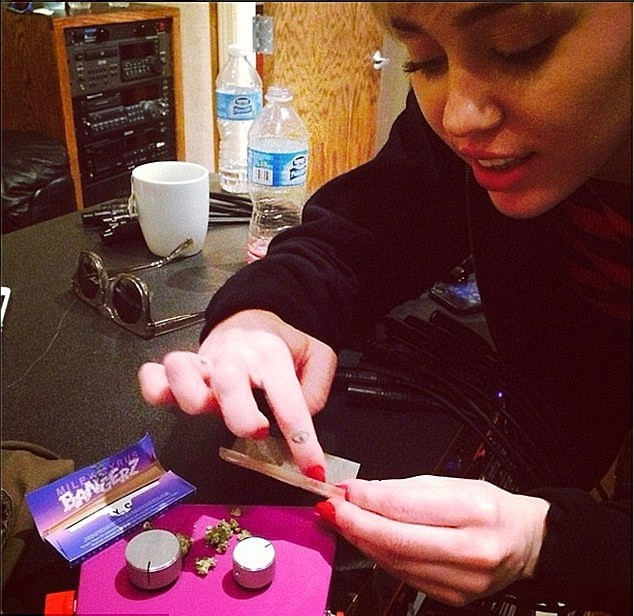 According to the tInquisitr a source said: "Everyone knows Miley loves to throw an outrageous party and her wedding won't be any different.
"Miley wants her wedding to be like a Flaming Lips concert, in other words fun, crazy and colourful. She wants a psychedelic wedding that will be forever be embedded in her head!" the source added.
Cyrus has not commented on her relationship status, but as she appeared without her engagement ring it could well be the case that she has decided to give Liam up for the real love of her life – marijuana.