Miley Cyrus has opened up about her relationships with men and women.
In an interview with Time magazine the singer said that she is not hiding her sexuality, but doesn't want to be labelled.
Her candid comments follow the announcement this week that she has founded a non-profit organisation that works to empower LGBT and homeless youngsters, called the Happy Hippy Foundation.
At the launch event she revealed she has had relationships "that weren't straight".
"I'm not hiding my sexuality. For me, I don't want to label myself as anything," the 22-year-old said. "'We love putting people in categories, but what I like sexually isn't going to label me as a person."
"There are times in my life where I've had boyfriends or girlfriends. And there are times where I just love being with myself and don't want to give part of myself away to someone else. 'It has a lot to do with being a feminist, but I'm finally O.K. with being alone. I think that's something we have to talk about more: that you can be alone," she explained.
The former Disney Star, who according to Forbes earned $36 million in 2014, said that changing sexual mores and financial independence have resulted in greater freedom for women to explore their sexuality.
"I think that's a new freedom for women, especially. I don't know that my mother would have been able to be 22 and secure in being alone. But my future doesn't rely on having a partner," she said.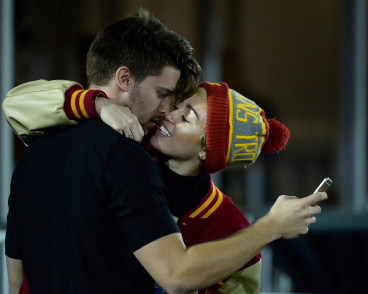 A champion for the rights of gay, lesbian, bi-sexual and transgender communities, Cyrus showed off an androgynous look at the Met Ball in New York on 4 May.
The Wrecking Ball singer, who was in high-profile relationships with Hollywood actor Liam Hemsworth and most recently Patrick Schwarzenegger, was photographed locking lips with former model Frankie Rayder at a party last month. She also caused a sensation when she puckered up for 'I Kissed a Girl' singer Katy Perry during her Bangerz concert.
Cyrus has been the focus of renewed speculation that she may be reconciling with former fiancé Liam Hemsworth after the couple were spotting hanging out in recent weeks.