Miley Cyrus has proven that just like her song says, she 'won't stop,' after she stripped off yet again, for a wild night of partying.
The outrageous singer appeared practically topless on Wednesday (3 December), barring a pair of disco ball pasties to protect her modesty, as she left the Raleigh Hotel, after her Art Basel Miami concert.
If that wasn't enough, the 22-year-old donned a silver, thong-suspender over glittery tights matched with a silver tinsel wig.
She and boyfriend Patrick Schwarzenegger later headed to the Dream nightclub, where the singer covered up somewhat with a black bra and denim shorts.
After partying hard for two hours with friends, she emerged from the venue looking worse for wear and needing to be held up by her boyfriend as she stumbled out.
Cyrus previously arrived at Alexander Wang's New York Fashion Week after party wearing nothing but ice cream shaped nipple pasties and famously stripped off for her Wrecking Ball video.
Most recently she celebrated her 22nd birthday with friends, in characteristically flesh-baring style, going topless during the night.
Her latest wild night on the town followed a controversial appearance earlier that day when she was spotted smoking a hand-rolled joint on-stage at the V Magazine bash, according to the Daily Mail.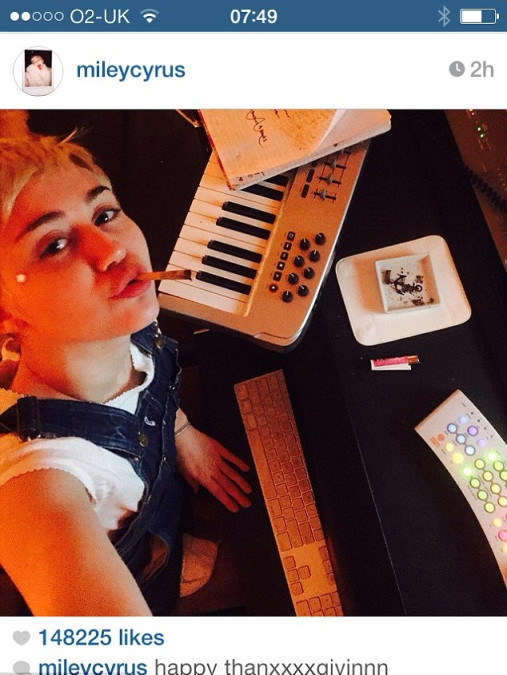 Cyrus has been open about her use of marijuana and has reportedly even made her own bongs.
The singer is displaying her 'Dirty Hippie' collage art in South Beach.
Speaking to V Magazine about her craftwork she said: "I just sit around and smoke weed anyway, so I might as well sit around, smoke weed, and do something.
"And this is me doing something. I love it. I mean, I'm up until seven in the morning doing this stuff all the time. It was much weirder when I started doing it while I was sober," she revealed.
The singer most recently posted an image of herself on Instagram, smoking a suspicious looking roll-up on Thanksgiving morning, before a rather more traditional family celebration.
In February, Cyrus launched her own Bangerz brand 24-karat gold rolling papers. 12 sheets cost around $65.
She also went to dinner with boyfriend Patrick Schwarzenegger wearing marijuana-print platform boots and earrings.
The Wrecking Ball singer has in the past come under fire from parents of her young fans for her provocative behaviour, with many threatening to boycott the star's concerts.