In October, a devastating bomb attack rocked Mogadishu in Somalia, killing more than 300 civilians.
The event shocked the world, but sadly the East African country has long been marred by crises. For more than two decades, conflict between warring groups has created acute humanitarian needs.
Over a quarter of a million children, women and men died due to famine in 2011 alone.
At present, more than 6.2 million people – over half of Somalia's population – are in need of protection and humanitarian assistance.
However, Somalia is not the only country that continues to bear the brunt of insurgencies, droughts and dire humanitarian crises. And children are often those who pay the highest price.
An unfathomable number of children suffer unspeakably in incidents like the one in Mogadishu.
Around the world, more than half of the people displaced by conflict are children, and over 245 million children live in conflict zones.
Here are four other war-torn regions in Africa where children are vulnerable and their lives are threatened by war, instability and poverty.
The Democratic Republic of the Congo (DRC)
Over half of the DRC's 26 provinces are affected by armed violence, disease and natural disasters.
Protracted conflict has left the country with the highest number of displaced people in Africa. Over 70 armed groups roam the east, causing high levels of displacement, sexual and gender-based violence and recruitment of child soldiers.
South Sudan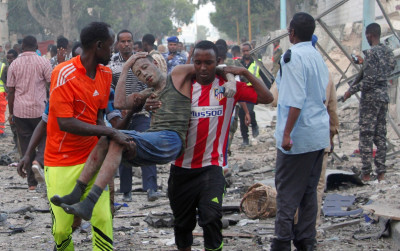 After declaring independence in 2011, South Sudan descended into conflict two years later. 1.8 million people are internally displaced and a further 2.1 million have fled to surrounding countries, more than 85 % of them women and children.
According to the UN, over a million children of school age have no access to education, while adolescent girls are three times more likely to die in childbirth than to complete primary school.
The Central African Republic (CAR)
One of the poorest countries in the world, landlocked CAR has witnessed intensified clashes between various armed groups in the past three years. One million people – a fifth of its population – are now internally displaced or refugees. Rival militias prey on women and girls while religious divisions have deepened.
Lake Chad Basin
The Lake Chad Basin region in Africa is experiencing one of the world's most neglected crises. A highly unstable region, more than 515,000 children are suffering from acute malnutrition, menaced by extremists, and millions can't get to school.
How you can help
There is one way you might be able to make a difference.
World Vision last month joined a number of international non-governmental organisations (NGOs) to launch a report in Parliament under the leadership of Bond's Humanitarian and Conflict Policy groups. It comes at a time when the UK is assessing its international role in a world where conflict and disasters mean millions are at risk.
World Vision works in 99 countries around the world, including these five regions above. We help address the root causes of conflict as well as work alongside traumatised communities.
Thankfully we're not alone, but much more needs to be done. According to a new report by Bond, there is a 40% global shortfall in funding for UN coordinated appeals to address crises around the world.
We can ensure a bright future for the world's most vulnerable children, but we must step up and act now. What if we were remembered as the generation that turned the tide on violence, displacement, and war for good?
Here's a radical idea: What if we started a movement to care, instead of glaze over. What if in addition to tweeting a sympathetic hashtag, we all gave 1% of everything we buy to do good? What if just one penny of every pound we spent went to help a child living in the hardest places on earth?
There at least five places above worthy of starting to try.
---
Matthew Scott is the Director of Fragile Contexts and Peace building at World Vision International
---