One million refugees from South Sudan, the majority of whom are children, are now present in neighbouring Uganda, the United Nations has said.
War in South Sudan has displaced at least 2 million people since 2013. The majority of them have fled to Uganda, with humanitarian organisations estimating an average of 1,800 people crossed the border every day for the past 12 months.
Uganda is now hosting more refugees than any other country in Africa. It is home to the world's largest refugee camp, Bidi Bidi, home to some 300,000 refugees, the majority of whom are South Sudanese.
Uganda has adopted an open policy with regards to refugees, but the amount of people crossing into the country every day is depleting the country's resources amid a funding shortfall. There are fears the huge influx of people might lead to tensions with local communities.
In June, the World Food Programme was forced to cut food rations for refugees. Health clinics across the country are also experiencing a lack of doctors, healthcare workers and medicine.
"For Uganda, $674m is needed for South Sudanese refugees this year, but so far only a fifth of this amount has been received," the UN refugee agency (UNHCR) said in a statement.
"Recent arrivals continue to speak of barbaric violence, with armed groups reportedly burning down houses with civilians inside, people being killed in front of family members, sexual assaults of women and girls, and kidnapping of boys for forced conscription," the organisation continued.
Humanitarian organisations believe that the number of refugees will further increase if the war in South Sudan continues.
"As long as the senseless, costly and brutal war in South Sudan continues, its people will continue to flee in search of safety, food, water and shelter," Lydia Zigomo, Oxfam's Regional Director of the Horn, East and Central Africa, said.
"More than anything they need peace at home. South Sudan's neighbours and the international community must honour their commitments to get the warring parties back to the negotiating table. Until then, it will not be safe for South Sudanese refugees to return home, forcing them to depend on aid across the border."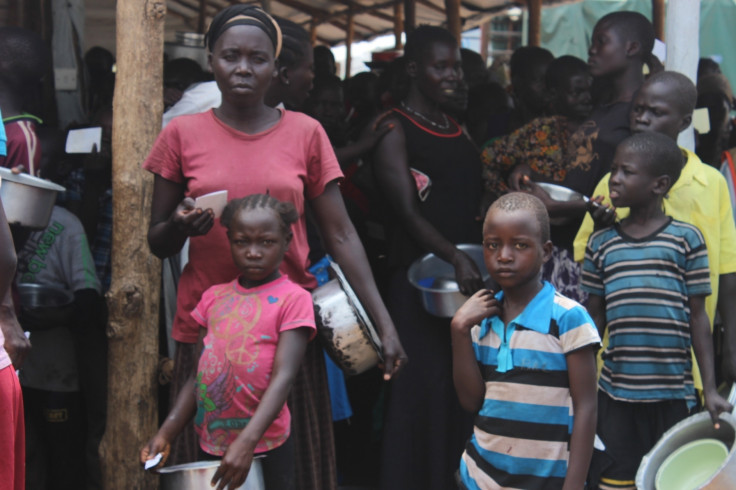 Children
It has been estimated that around 100 South Sudanese children cross into Uganda every day. They are often unaccompanied and their mental and physical health is at risk due to the atrocities they were subjected to.
Children's charity World Vision has warned children could go back to South Sudan and take part in the conflict, unless they receive adequate care in the hosting country.
"We have to make sure that children on the move are protected and that when they arrive, they are able to have opportunities to fully participate in society here," said Enid Kabasinguzi Ocaya, World Vision's Disaster Risk Reduction and Humanitarian Emergency Affairs Manager in Uganda.
UK International Development Secretary Priti Patel showed solidarity to refugees and the Ugandan government.
"I've seen first-hand the appalling conditions where men, women and children are starving to death, but I have also been proud to see UK aid providing a lifeline in South Sudan and in Uganda - by providing urgent food, water and shelter, and also helping people to rebuild their lives," she said in a statement sent to IBTimes UK earlier this year.
Since 2014, the UK has provided £93.5m ($122m) of funding to the refugee response in Uganda. The support has contributed to, among other projects, providing food or cash-based equivalent to 1.2 million refugees, vaccinations to 210,000 child refugees and shelter to 56,255 people. Hundreds of thousands of people have also been provided with clean water and items including blankets and cooking utensils.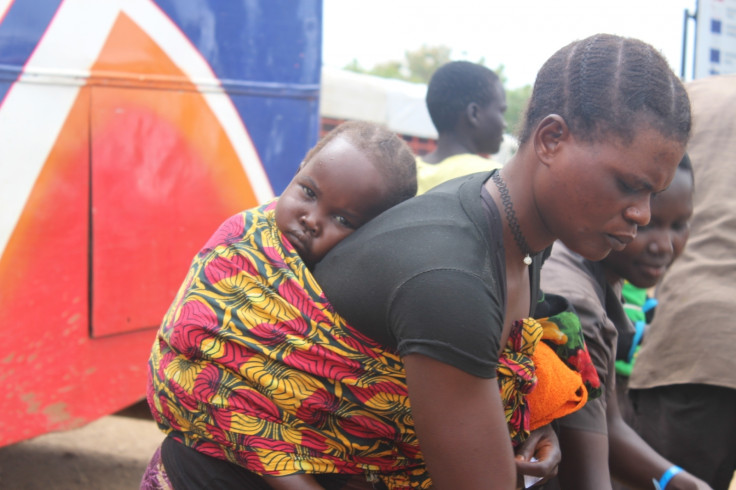 South Sudan's conflict explained
South Sudan became world's newest nation in 2011, after it broke away from Sudan. However, the newly created country has known very little peace, as it descended into war just two years after its creation.
The conflict erupted in 2013 when President Salva Kiir, of the Dinka ethnic group, fired his deputy Riek Machar – from the Nuer group. Machar then became a rebel leader.
Fighting between rebels and government troops has killed an estimated 50,000 people, amid allegations of crimes against humanity committed by both sides, including rape, torture and the use of child soldiers.
The conflict has progressively continued along ethnic lines, with tit-for-tat violence targeting Dinka and Nuer tribes, prompting the UN to repeatedly warn the country is on the verge of a Rwanda-style genocide.
Kiir and Machar have agreed on several peace deals – the last of which was signed in August 2015 – but have failed to control their troops, who have broken every ceasefire since 2014.
Earlier this year, the government declared a unilateral ceasefire to promote peace. However, in in May, rebels loyal to Machar rejected the government's offer of dialogue.