IBTimes UK visited the Cachenge community in Mozambique's Tete province, where global charity World Vision is assisting vulnerable people threatened by lack of food. Nearly two million people are going hungry in the south-eastern African nation due to a drought linked to the El Nino phenomenon, caused by warm water in the Pacific Ocean.
Mozambique is one of Africa's poorest countries. Lack of rainfall for two consecutive seasons have depleted harvests, meaning that rural communities who largely depend on agricultural practices do not have staple foods – such as maize and sorghum – for their subsistence.
Electronic cards
World Vision Mozambique recently introduced the use of electronic cards in two districts in Tete, targeting some 16,000 households. Communities are using the cards to buy staple foods at local markets in the area.
When a community lives far from markets and retailers, as in the case of Cachenge, World Vision organises a monthly food fair that sees a distributor bringing food items to the remote area.
Mozambique fact file
Capital: Maputo
President: Filipe Nyusi
Population: 25.8m (as per 2013 census)
Main ethnic groups: Mauka, Sena, Shona, Shangaan
Main languages: Portuguese (official), local languages
Main religions : Christianity, Islam, indigenous beliefs
Currency: Metical
The project, funded by the UK government's Department for International Development (DfID), sees the collaboration between MasterCard and NGOs including World Vision and World Food Programme (WFP).
"We use MasterCard networks to load points on the cards, which the beneficiaries then use at traders' shops and buy food items that are approved. Every beneficiary has a card with a picture of themselves on them and this system gives them a feeling of accountability and transparency," Kamran Said, Last Mile Mobile Solutions (LMMS) specialist at World Vision, told IBTimes UK.
"We are implementing this in areas with no electricity and no internet," Said continued. "You can carry out your operation and later when you find internet you can upload your data."
The introduction of the electronic cards have replaced the old paper system and is allowing people to decide what type of food they want to buy as well as the quantity. The project, the first of such to be implemented in Africa, will be running until March, when harvest begins.
The UK, which has spent around £59m on Mozambique aid in the past year, also provided £32m for the drought fightback in the country to buy emergency life-saving food, water and shelter in the drought-affected communities.
"As the world faces a number of unprecedented humanitarian crises this year, almost two million people in Mozambique are facing the daily threat of going without enough food and large numbers of children are malnourished due to a prolonged drought," DfID's Africa minister, James Wharton, told IBTimes UK.
"That is why the UK is leading the response. Tackling the global challenges of our time such as drought and disease which fuel migration, insecurity and instability is the right thing to do and is firmly in Britain's interest."
Drought in Mozambique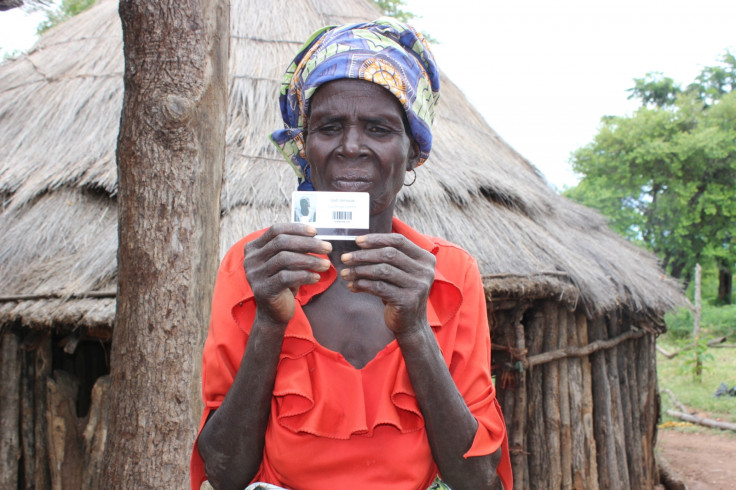 Earlier this year, WFP said it aimed to assist at least 700,000 people in central and southern Mozambique.
The UN agency also warned almost half of the children under five were chronically undernourished in Mozambique, where the majority of people lack essential nutrients in their diets.
In 2015, Mozambique met one of its Millennium Development Goals, by halving the number of hungry people.
However, hundreds of thousands are still affected by lack of food and do not have access to clean water and adequate hygiene. These precarious conditions increase the risk of - among others - infant mortality, stunting, malnourishment and the spread of diseases including malaria.
Lack of food often increases the school dropout rate, with children looking for jobs to help their families cope with hunger or engaging in transactional sex in exchange for food. In most cases, vulnerable families resort to marrying off their children in a country where child marriage is
already rife.
Humanitarian organisations are appealing for more funds to assist vulnerable communities across the country, while experts have warned a new El Nino might occur later this year.
Furthermore, fears are increasing that the country could be invaded by a crop-eating pest known as army worm, which has already spread to several countries such as South Africa, Zimbabwe, Malawi and Zambia.
Mozambique is also prone to natural disasters, exacerbated by climate change. Earlier this year, a cyclone killed at least eight people and affected thousands of families.
---
IBTimes UK travelled to Mozambique courtesy of World Vision UK. Click here for more information about the charity's work in Mozambique.
---