Mindhorn review: Julian Barratt's bonkers crime caper is an hilarious homage to 80s trash television
Simon Farnaby, Essie Davis, Steve Coogan and Andrea Riseborough also star in brilliant British comedy.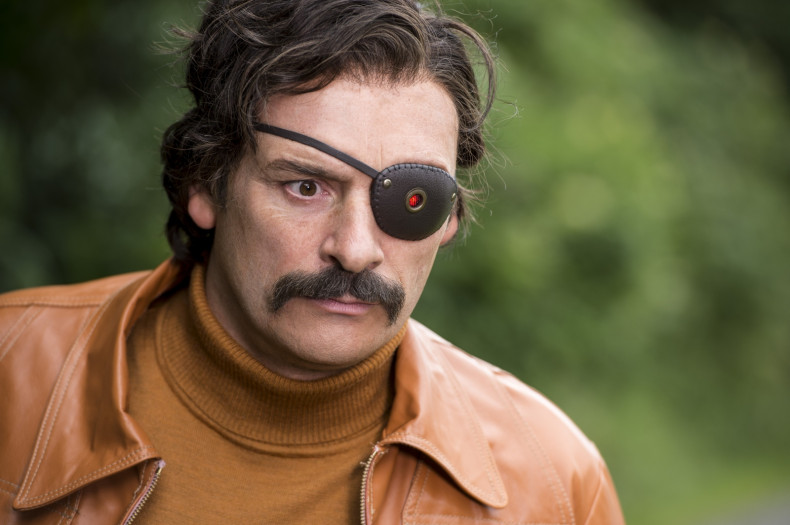 Theatre dab-hand Sean Foley swaps the stage for the big screen as he makes his feature-length directorial debut with Mindhorn; a brilliantly British comedy starring Simon Farnaby and Julian Barratt. Written by the aforementioned pair – whose past credits include Yonderland and The Mighty Boosh, the film follows washed-up actor Richard Thorncroft, who gets given an unorthodox shot at the spotlight, when he attempts to solve a murder investigation on the Isle of Man.
It goes without saying that every great movie needs a great protagonist, and with Mindhorn, co-writers Simon Farnaby and Julian Barratt have made an excuse to conjure up two. Grotesque, has-been actor Richard Thorncroft and the character that made him famous... lady-killing, eye-patched detective Mindhorn who can quite literally "see the truth" thanks to his genetically-modified optical lie detector. (And if those descriptions don't persuade you to watch the movie, then quite frankly, nothing will).
After a brief prologue establishes both Mindhorn the character and television show, as well as depicting Richard's budding prospects and later, career-crushing interview on Wogan, Mindhorn the film jumps forward 25 years. Now living in a tiny flat in Walthamstow – not quite the Hollywood Hills he was hoping for – Richard now spends his days simultaneously trying to get over his five minutes of fame and struggling to land an acting gig despite his agent's best efforts.
So when an unstable killer, operating on Mindhorn's setting the Isle of Man, reaches out to the local police and claims he'll only speak to detective Mindhorn (whom he believes is real), Richard – somewhat despicably – sees it as a chance to make a name for himself again. Delighting in such a headline-worthy PR ''stunt'', he revisits his former stomping ground and agrees to help crack the case under the guise of the fictional laser-eyed sleuth.
Channelling the likes of Alan Partridge or David Brent, Barratt nails his performance of Richard, as each and other one of his one-liners lands and gets a laugh. Not only does he prove himself confident with the gags, but his physicality and enthusiasm too makes Richard into an unlikely hero that you can't help but get behind.
While Barratt is undoubtedly the star of the show – (ironic, given Richard's inability to ever live up to the ideal he has off himself on his fictional big screen) – all of the supporting players hold their own when appearing against him. Farnaby makes for most of the movie's laughs as he channels Dutch former stuntman Clive, who ended up stealing more than just Richard's television credits and consistently walks around in hot-pants. Meanwhile Essie Davis' Patricia Deville – Richard's ex-lover whom he left to make the big time – manages to provide a much-needed grounded centre to the plot's farcical events.
Steve Coogan makes a brief appearance as Peter Eastman, a fellow Mindhorn actor who found fame in his own spin-off Windjammer after the original schlock series was cancelled. Simon Callow and Kenneth ("B-Man!") Branagh also shine in their respective cameos, the latter's of which sees Richard awkwardly audition for a role meant for a Jamaican man. A situation that apparently can't even be saved with a swift change of footwear... even a Brogue. Who knew, eh?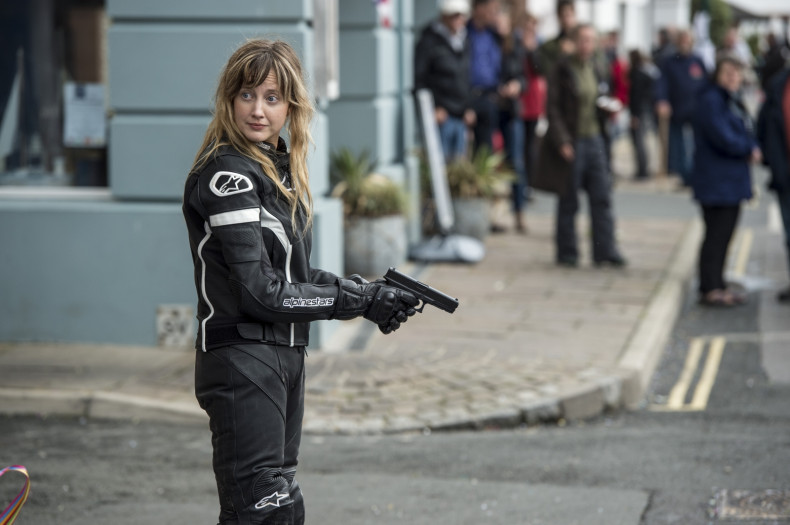 Andrea Riseborough and Russell Tovey, who are arguably the most well-known names on the film's roster, get a little less to do than everybody else, which is a shame given both of their talents. Through evidently no fault of Tovey's – rather the cues in the screenplay – his portrayal of a mentally-handicapped young man occasionally comes across a little heavy-handed - and not just because of the ''he's mad so he must have dunnit'' trope that litters so many outings still to this day. But fortunately, his natural skill permeates the caricature, adding some surprising pathos when the script calls for it.
Shot on location in the Isle of Man, the film even allows to the state itself to be a character; from mocking those awkward small-town fairs where the locals narrate exactly what's happening on a sub-par speaker system to showing the camaraderie that a community such as this one can create. Its basic backdrops making the film's wacky action all the more humourous.
Half love-letter to 1980's television series such as Lovejoy and Bergerac, half an exercise in how to successfully mix zany comedy and crime caper, Mindhorn is a must-watch for cinema-goers who like their funnies a little off-kilter. Those who aren't familiar with Farnaby and Barratt's previous works will likely find Mindhorn's subtle yet farcical tone difficult to get to grips with at first. But as the well-written characters begin to flesh out, the crime story escalates and the set pieces get more and more outrageous, they're sure to find it impossible not to laugh at.
If you've not chuckled by the film's final act, just know that you are humourless. Just kidding –no need to worry – Richard's slow-mo jinga moves are sure to make you crack in a minute.