Microsoft and Mojang have announced that Minecraft is getting a new in-game store through which users will be able to purchase user-generated content with a new virtual currency. To date Minecraft's microtransactions have been limited to cosmetic DLC.
The Minecraft Marketplace will be added as part of the upcoming 1.1 Discovery Update, and will only affect certain versions of the game on PC – namely the C++ "Bedrock Engine" versions for mobile and Windows 10.
Through the store, players will be able to buy maps, skins, texture packs and other assets created by established partners selected by Microsoft – the kicker being that they must have a business license to apply.
Minecraft Coins will be sold at $1.99 for 300 coins, $4.99 for 840 coins and $9.99 for 1,720 coins. Looking at pictures of the store Microsoft has released alongside its statement (embedded below), it seems user-created worlds will sell for roughly 960 coins, which equates to around £5.50.
An Xbox Live account will be required to buy the Minecraft Coins. This is because Microsoft is also looking into enabling users to use purchased content across multiple platforms.
Microsoft's announced nine partners for the Minecraft Marketplace: Blockception, Blockworks, Eneija Silverleaf, Imagiverse, Noxcrew, Polyamps, Qwertyuiop The Pie, Razzelberry Fox and Sphax.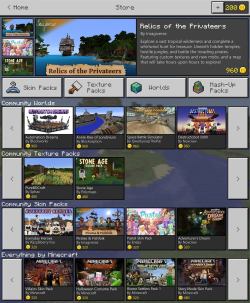 More partners will be introduced, with submissions opening "later on down the line".
"Coins let creators set flexible prices and take their share of what they sell," reads a statement on the Minecraft site. "It's super important to us that this is the biggest chunk of the profit: when a cool skin or map gets purchased, the app store platforms take a 30% cut, but creators get the majority after that."
According to Microsoft the move "gives our partners a platform to share their creations and earn a living from their work without requiring a full game update each time new content is added, as well as added flexibility for creators to set prices as they choose using a standard currency".
For all the latest video game news follow us on Twitter @IBTGamesUK.