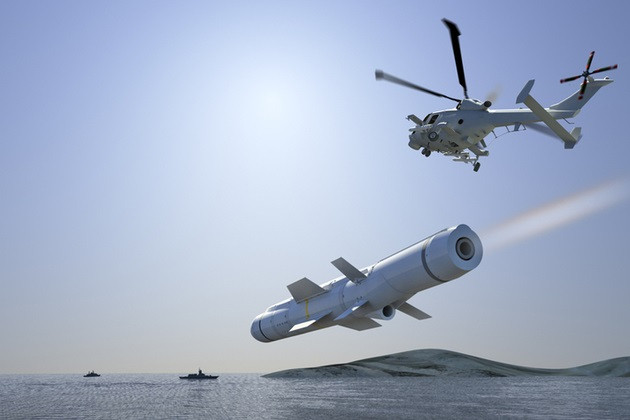 The Ministry of Defence has announced it will equip new helicopters with state-of-the-art missiles after a landmark deal was signed.
The agreement will see the MoD contribute £280m towards a £500m UK and French government project to arm the Royal Navy's new Wildcat helicopters.
It is the first time the goverments have signed off a project since last month's Anglo-French summit held at RAF Brize Norton.
Weighing around 100kg, the missile can destroy small and medium-sized vessels from far away and also has the capability to launch attacks against coastal and ground targets.
The investment will also sustain around 200 highly-skilled UK jobs and work will take place at arms manufacturer's MBDA sites, in Lostock near Manchester, Bristol and Stevenage. The contract will also protect a further 200 jobs in France.
Paris had reportedly dragged its feet over the plan due to budget pressures and because its military had no requirement for the weapon until at least the early 2020s.
The delay means the new AgustaWestland-built Wildcat helicopter due to enter service with the Royal Navy next year will be without either of its two main missile armaments.
Minister for Defence Equipment, Support and Technology, Philip Dunne, said: "This highly sophisticated complex weapon system will provide our new Royal Navy Wildcat helicopters with unparalleled strike capabilities."
A video pulished by the MoD demonstrates the lethal accuracy of the weapon, which will also have new capabilities such as in-flight retargeting.