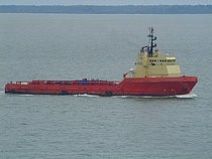 The US Navy has confirmed that two American officials have been kidnapped in an apparent pirate attack on an American vessel off the coast of Nigeria.
The captain and chief engineers were seized as the C-Retriever container ship passed through West Africa's Gulf of Guinea - a major sea transport route.
The ship, owned by the US marine transport group Edison Chouest Offshore, was attacked in the early hours of Wednesday.