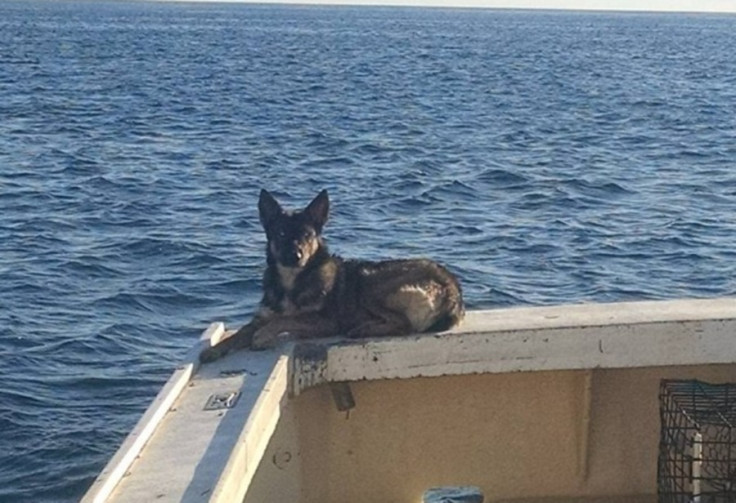 A dog that was feared dead after falling into the Pacific Ocean almost five weeks ago was found by the US Navy alive and well after it appeared on a nearby island. Eighteen month-old Luna, a German Shepard and Husky cross, fell off a fishing boat on 10 February.
Her commercial fisherman owner, Nick Haworth, and his one-man crew were two miles off the coast of San Clemente Island, which itself sits off the Californian coast near San Diego, when the dog went overboard. Haworth informed the US Navy that has a landing base on the island, that Luna might try to make the two-mile swim to shore.
Haworth spent two days at sea looking for her but gave up by 20 February and said goodbye to his dog posting a RIP message on his Facebook account. "One moment Luna was there and the next she was gone," he told the Navy at the time.
But on 15 March almost five weeks after she went missing a crew from the US Naval Auxiliary Landing Field on the island spotted the distinctive blue-eyed pooch strolling on the pavement. According to the San Diego Union-Tribune Navy crews searched for the dog from the land and from the air but never spotted her. "She blended right in," Navy wildlife biologist Melissa Booker said.
Booker added that Luna had no physical ailments apart from being slightly undernourished and was surprised by his reaction. "They literally opened up the car door, whistled, and she jumped right in," Booker said.
They added a tag to her collar that read "For Luna, keep the faith" as her owner was away, a friend of Haworth's picked up the dog from the island. "It's just really mind blowing to tell you the truth," Conner Lamb told the NBC. "When I got the call this happened, I never even thought this would be possible."
After the discovery of Luna, Haworth, took to Facebook to say: "Beyond stoked to have Luna back. I always knew she was a warrior."