Police say it was "miraculous" that a six-year-old boy and nine other people were not shot when a gunman opened fire on a Birmingham chip shop on 7 October.
Detectives are pleading for witnesses to come forward after the shooter fired a pistol into the Classic Fish Bar in Washwood Heath while in pursuit of another man, who had ran into the popular takeaway just before 9pm.
About 10 people, including customers and staff, were waiting for their food when the bullet was discharged through the shop front, sending shards of glass flying.
"It's miraculous that none of them, including a six-year-old boy, were injured," said Detective Sergeant Jamie Mason from West Midlands Police.
"This was a hugely reckless discharge of a firearm in public – and one which could have resulted in the serious injury or death of completely innocent people.
"We need to speak to everyone who was in Classic Fish Bar at the time on Saturday night and who witnessed what happened. CCTV shows one man outside the shop intervening and pushing the offenders away – we really need to speak to that man as he's a key witness."
Customers feared for their lives as a young man ran into the eatery and took cover with two hooded thugs in hot pursuit. One of them brandished the weapon and fired into the establishment before the pair fled in a maroon coloured Ford Focus.
The car was later abandoned and is being analysed by forensic teams from West Midlands Police for clues that will lead to the arrests of the duo.
The all important third man – referred to by Det. Mason – appeared to enter St Margaret's Avenue from the same direction as the assailants and then herd them away from the fish bar after the shot was fired.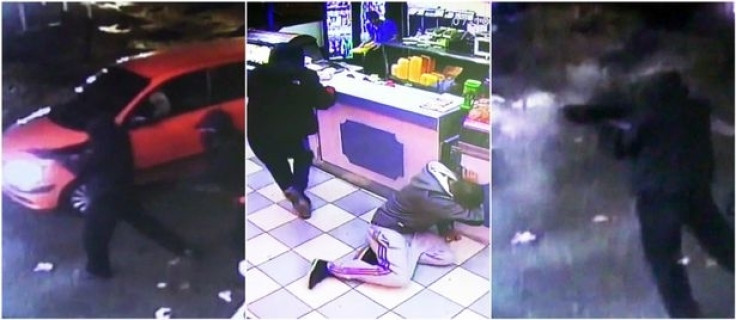 Meanwhile, the scene inside the chip shop was one of absolute terror. An employee speaking on condition of anonymity just after the event said: "A boy who was aged about 16 ran into the shop and was trying to hide. A car then stopped outside and three men got out. I knew there was going to be trouble so I started moving the fridge so I could usher customers around the back of the shop."
"One of the men then pointed a gun and fired a shot through the door window. How it missed someone I just don't know."
Mason said: "The public need to stand united against people who threaten to cause harm in our communities. If anyone saw what happened, or has information on the whereabouts of these two men, I'd urge them to contact me immediately.
"These offenders deserve no protection... members of the public can speak to me in confidence or they can call Crimestoppers anonymously."