Gunman opens fire on crowded Birmingham chip shop
A child was among the 15 customers forced to run for their lives once the shooter opened fire.
Video footage has captured the moment a gunman fires into a packed chip shop, sending customers fleeing for their lives.
Around 15 people – including a young child – were placing their orders at the Classic Fish Bar in Birmingham at 7.30pm on Saturday night (8 October) when the thug launched his attack, before disappearing into the darkness.
A customer is pictured cowering in fear of his life inside the fast food establishment, after the gunman fires a shot from outside.
CCTV caught the shooter lurking outside the shop in the darkness, moments before he opened fire.
A chip shop worker, who did not want to be named, moved a display fridge to shield his customers and allow them to run around the back of the shop.
He said it was a miracle nobody was injured inside the packed takeaway.
He added: "A boy who was aged about 16 ran into the shop and was trying to hide. A car then stopped outside and three men got out. I knew there was going to be trouble so I started moving the fridge so I could usher customers around the back of the shop.
"One of the men then pointed a gun and fired a shot through the door window. How it missed someone I just don't know.
"There was about 15 customers in the shop at the time – it was packed. People were screaming as they ran for cover. It really was terrifying. It was a miracle no-one was badly injured or killed."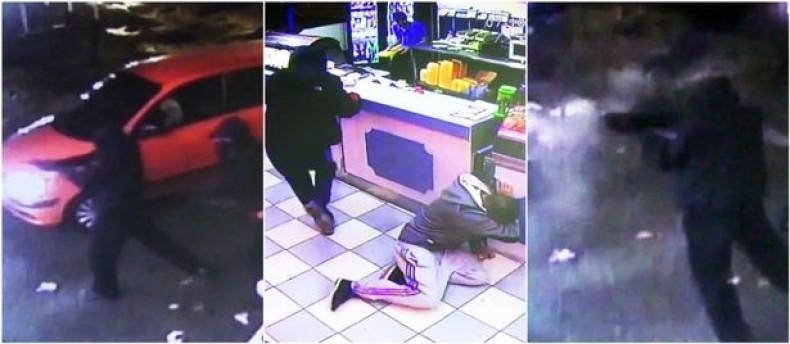 A spokesman for West Midlands Police said: "We believe there was an intended target, it wasn't a random shooting, but no-one was injured.
"Officers have recovered a vehicle suspected of being used during the offence; it was seized by police from the Alum Rock area [an inner city district two miles from the centre of Birmingham] on Sunday night and will be forensically examined."
Police said that no arrests had been made at this stage and that its enquiries were ongoing.