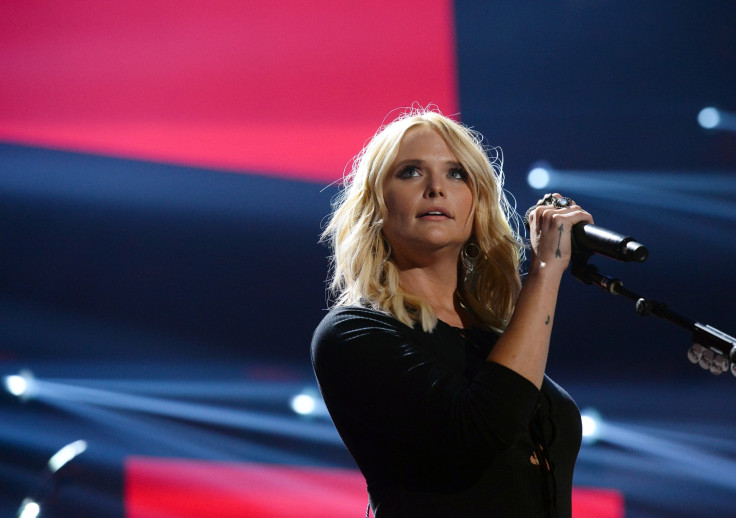 It's been one year since Miranda Lambert and Blake Shelton announced their divorce but it appears she is still reeling from the separation. The country music singer broke down during a recent stage performance while singing a song she co-wrote with her ex-husband.
Lambert was singing one of her 2012 hit number Over You, during a stage show in Tinley Park, Illinois on Friday (29 July) and broke into tears during a concert. However, her loyal audience helped her through the emotional moment, The People reported.
But before anyone could form a judgment about her fragility on stage, the 32-year-old singer was quick to blame it on her cramps and 'hormonal' condition. "I told you I was a mess," she told her fans. However, the website reported that the Little Red Wagon singer again cried while singing "The House That Built Me."
Lambert, who won six consecutive Country Music Academy awards, has recently released her new song Vice which has a sign of melancholy in its lyrics. Speaking with The Tennessean she divulged the inspiration of the song and said: "Everybody has a vice of some sort. Sometimes when you're going through something in your life, you may run into some things you shouldn't and run from some things you shouldn't."
She also agreed that the lyrics of her new song do describes her."'Yeah, I have some imperfections, and I live a life and here and there I might get in a pickle.' It's not about one thing or another. Everybody has a vice they run to when they need comfort, and I think that's what this song says. There's no mystery here. I run to things for comfort just like everybody else."
A few days back, Shelton, who is currently dating Gwen Stefani, has said that the Voice coach has 'saved' his life following his high-profile divorce. "Gwen saved my life," Shelton told Billboard. "Who else on earth could understand going through a high-profile divorce from another musician? You can't even imagine the similarities in our divorces." However, it is not clear whether Shelton's remarks were the reason behind Lambert's teary stage show.