WWE wrestler John Cena, sporting a hot pink pantsuit, stepped into Democratic presidential nominee Hillary Clinton's shoes to dole out some tips to the wife of former president Bill Clinton at the Teen Choice Awards 2016. Cena surely had a fun-filled night impersonating Clinton along with co-host singer Victoria Justice – who played Donald Trump – in the political spoof enacted at the ceremony on Sunday (31 July).
Taking a comic cue at the ongoing political hustle in the US, actor Keegan-Michael Key, who impersonated President Barack Obama, took to the stage to introduce the nominees of the first-ever "Teen Choice Presidential Election". And the candidates were Cena and Justice, who were dressed as Hillary and Trump, respectively.
While Justice was a little short to play the controversial American politician, the WWE superstar was nothing but a nightmare for fans with his hot pink pantsuit and blonde bob hair.
"Nice pantsuit, it's huge," the co-host took a dig at Cena's look as the hulky Hillary Clinton. "Nice head-badger – it's ridiculous," replied the professional wrestler. Key, with all his seriousness, went on to declare the election announcement. "You have to pick one of these two major candidates. There's no write-ins, guys. I don't want to see any of your Bieber's, or your Swifts, or your Pokémons." And at the end, a grinning Cena's Clinton thanked the audience after winning the Teen Choice "election".
The act was well received by fans who wanted Hillary to take a tip or two from Cena on how to "rock the hot pink pantsuit".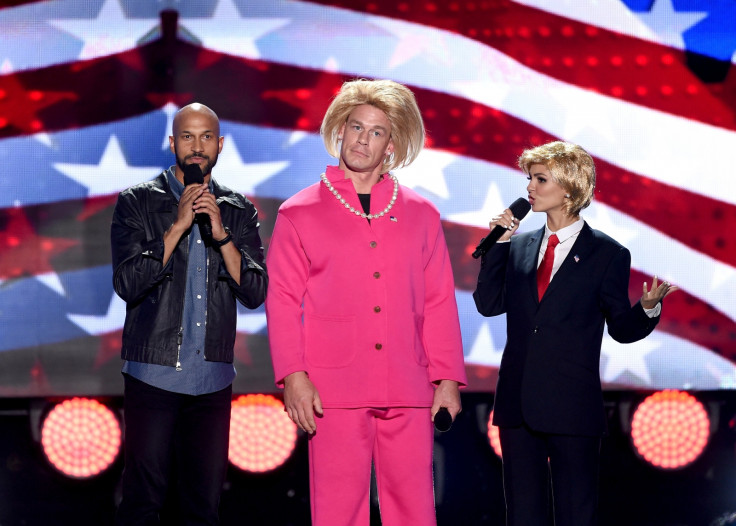 Later, the 39-year-old WWE superstar took to social media to thank his fans for the amazing night and joked about tailoring the pantsuit for himself.
"Major thanks to @VictoriaJustice, the staff, producers and the fans of TeenChoiceFOX. I got to have a lot of fun tonight. #FinelyTailoredPantsuit.