UK's business secretary Vince Cable sent his most senior colleague from the Department for Business Innovation & Skills to gather information from the Bully-Banks' conference on the growing small business derivatives mis-selling controversy, just one day after the UK regulator was forced to revise up the estimate of the number of businesses possibly effected by scandal.
Tessa Munt, a member of parliament for Wells and Cable's Parliamentary Private Secretary, was sent to relay information and case studies, according to Paul Adcock, a senior member of the Bully-Banks lobby group who says the appearance is an indication of the level of concern that the coalition government has over the number of UK businesses claiming to be mis-sold these derivatives products.
Adcock, who has been one of the key lobbyists that is actively talking to parliament, said that Munt had revealed that a number of constituents had been affected by the mis-selling of ISRAs and that she was Cable's 'eyes and ears' into the growing development of the IRSA scandal.
Over 420 businesses claiming to have been mis-sold interest rate swap agreements (ISRA) attended the 30 September conference in Birmingham, which included talks from legal experts such as Fraser Whitehead from law firm Russell Jones & Walker and members of parliament that are not included in on the Parlimentary Banking Standards Commission (PBSC).
The Conservative party's Guto Bebb MP, who has been campaigning for more investigations into scope and scale of the four largest UK banks mis-selling derivatives to businesses, also spoke to the conference.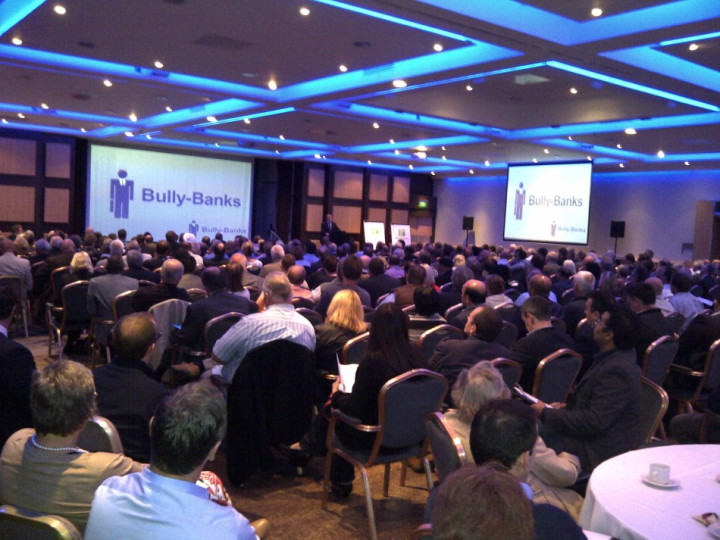 Only a day before the conference, the Financial Services Authority (FSA)was forced to revise up its initial June estimate of the number of products being potentially under investigation for mis-selling.
The FSA has now revised this number to 40,000 from 28,000 it had announced in June, when it also subsequently banned RBS, Barclays, Lloyds and HSBC from selling these products to small-to-medium enterprises (SME) again.
Since then, the UK government launched an investigation into the scope and scale of the mis-selling derivatives scandal and has launched official select committee hearings, which will result in a report sent to be reviewed by the Treasury Select Committee.
At the end of September, the PBSC conducted a Joint Select Committee hearing on the relationship between the banks and consumers, following the mis-selling derivatives scandal.
While, the evidence sessions with a number of independent consumer groups and banking industry experts encompassed a wide range of issues, the session had a dedicated one-hour portion to gather evidence about the scope and scale of the mis-selling derivatives situation.
Meanwhile, other MPs that are not included with the select committee talks, have waded in with concerns over the fallout of the FSA agreement with the banks.