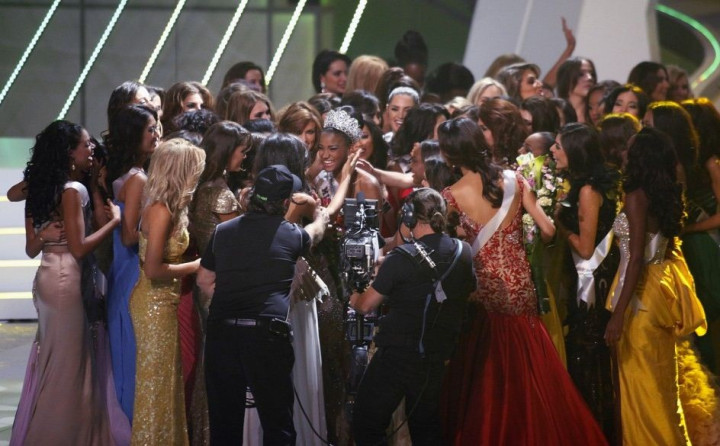 The countdown begins for the much awaited coronation of Miss Universe 2012 at Planet Hollywood Resort & Casino in Las Vegas, Nevada.
The 61st annual Miss Universe pageant will be broadcast live at 8pm ET (2am GMT) via NBC to approximately 190 countries. Viewers who prefer to watch the event at home can watch live coverage on missuniverse2012.org(the site be provide an online streaming link of the live telecast of the Miss Universe 2012 pageant), MissUniverse 2012 Livestream and Miss Universe 2012 online live.
You can also check out the Facebook community page entitled Watch Miss Universe 2012 Live Stream Online for live updates.
The big show will be hosted by Andy Cohen (the host of Bravo's Watch What Happens Live) and Giuliana Rancic, a co-anchor on E! News. Celebrity judges, led by pageant owner Donald Trump, include The Voice mentor Cee Lo Green, San Francisco Giants MVP Pablo Sandoval, TV host Nigel Barker, actor singer Diego Boneta, 2010 Miss Universe Ximena Navarrete of Mexicio and reality TV star Lisa Vanderpump.
Miss Universe 2011, Leila Lopes of Angola, will crown the successor at the end of the two-hour television special.
Participants have already completed the evening gown round, the swimsuit competition, the national costume competition and the National Gift Auction. Miss Great Britain 2012, 21-year-old Holly Hale from Swansea, displayed an impressive level of confidence and style in all the segments.
Miss Universe 2012: Contestants Shine in Swimsuit Round [SLIDESHOW]
Miss Universe 2012: Contestants Look Beautiful in National Costume Show [SLIDESHOW]
Miss Universe 2012: Contestants Look Stunning in Colourful Evening Gowns [SLIDESHOW]
Trump's Miss Universe Organisation Wins £3 Million In Defamation Suit
Meanwhile the Miss Universe Organisation has been awarded £3 million after winning a lawsuit against former Miss Pennsylvania Sheena Monnin, who had made allegations that the voting was rigged.
According to a report in the New York Post, Monnin, who participated in the Miss USA pageant, dropped out of the competition in June having supposedly discovered that a fellow constant had seen a list of the top five winners before they were officially announced.
According to a press release issued by the pageant organisers, in the days after the pageant Monnin made several damaging public comments asserting she had irrefutable proof the pageant was rigged, and that she would not be deterred in her "quest for the truth."
Trump, who owns the Miss Universe Organisation and all its pageants, including the Miss Universe, Miss USA, and Miss Teen USA beauty contests, retaliated by filing a suit against Monnin in a New York court.
Retired U.S. District Court Magistrate Judge Theodore H. Katz determined that Monnin had defamed the Miss Universe Organisation, and awarded it £3 million in damages. In his ruling, Katz stated that, "the method in which the Miss USA Pageant is judged . . . precludes any reasonable possibility that the judging was rigged."
Trump stated that Monnin was simply upset because she was not selected as a Miss USA semi-finalist.
"We cannot allow a disgruntled contestant to make false and reckless statements which are damaging to the many people who have devoted their hearts and souls to the Miss Universe, Miss USA and Miss Teen USA pageant systems," he said.
"She was angry that she lost, she went on the 'Today' show and she said really bad stuff. You can't rig the celebrity judges. Ernst & Young tabulate the results, and they were unbelievably upset about her comments.
"Going to arbitration was the appropriate action to take under the circumstances, and while I feel very badly for Sheena, she did the wrong thing. She was really nasty, and we had no choice. It is an expensive lesson for her."