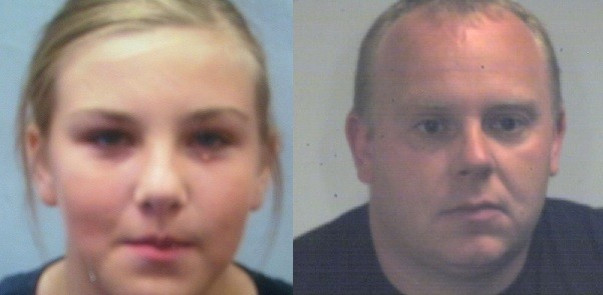 Police searching for a missing teenager believed to be with a 35-year-old man say the pair attempted to check into a hotel in Watford.
Lorna Vickerage, 14, has been missing since 10 June and is thought to have gone missing with family friend and convicted fraudster John Bush.
Police believe the pair could be in the Leicestershire area after the silver Ford Mondeo they were thought to be travelling in was recovered by police in Sproxton, a village in the east of the county.
Police have now revealed that the pair had attempted to book themselves into a hotel in Watford on the evening of 13 June. Detectives previously believed the pair may have travelled to Melton Mowbray train station and are trying to establish whether they boarded a train there.
DCI Craig Robinson said: "We are working closely with colleagues in Leicestershire Police to search for Lorna Vickerage and John Bush. We have extended the search from yesterday and have notified British Transport Police.
Earlier, Robinson told ITV's Daybreak programme: "We've still had no contact from Lorna or John Bush. We are doing both covert and overt work to track these people.
"John's a family friend [of the girl], I would probably suggest he has coerced her into going away with him. I don't think she is in any immediate danger from John but obviously she is at some sort of risk in terms of being away from her family, being in the company of an older man who might manipulate her.
"We would appeal to John, if you are watching this bulletin, can you please make contact with police, and Lorna you are not in trouble, can you please make contact with the police?"
Police have already arrested a 35-year-old man from Askern, Doncaster on suspicion of child abduction and he remains in police custody this morning. He is thought to be an associate of Bush.
Facebook appeal
Lorna's mother, Christine Vickerage, appealed for her daughter to return on Facebook.
She posted: "lorna if u read this baby plz come home were all missin u and very worried about u ur not in trouble sweetheart just plz ring me or try to get home i love u wi all my heart mum".
Anyone who may have seen them is urged to call police on101 quoting incident 609 of 10 June 2013.
Lorna is described as white, of a slim build, about 5'4" tall, with long straight, thick blonde hair. Bush is described as white, of a stocky build with receding dark blonde hair.