As the disappearance of Malaysia Airlines flight MH370 continues to baffle experts, Malaysian investigators have taken to the air in an identical 777-200 in an attempt to retrace the missing airliner's flightpath.
The re-enactment confirmed speculation that it banked west, said a senior Malaysian military official on Sunday.
The identical plane generated radar and satellite data that appears to match data provided by MH370, according to the Malaysian Insider.
"The idea of the flight was to find out the possible direction the missing plane could have gone," an official told AFP.
The official said new findings generated data believed to show the missing plane diverted from its intended flight path across the South China Sea, returned back across Malaysia and then travelled northwest towards the Andaman Sea.
The identical Boeing 777 included zig-zag moves thought to assist in avoiding civilian radar.
"The plane was flown exactly how the missing plane flew based on military radar data. It did a turn-around, flew across the Malaysian peninsula and up north," the official said.
"That is why we can conclusively say which two possible directions the plane flew and we have now refocused our search and rescue operations to these two new areas."
On Saturday, Prime Minister Datuk Seri Najib Razak announced that data indicated the communications systems of MH370 were deliberately de-activated by someone aboard, and the jet diverted away from its Kuala Lumpur-Beijing flight path.
The search has widened to as far away as Kazakhstan and another reaching southwest toward the southern Indian Ocean.
The challenges of finding the plane in such a vast area was likened to a space mission. "It is like going to the moon. The operation is going to be more challenging," the official said.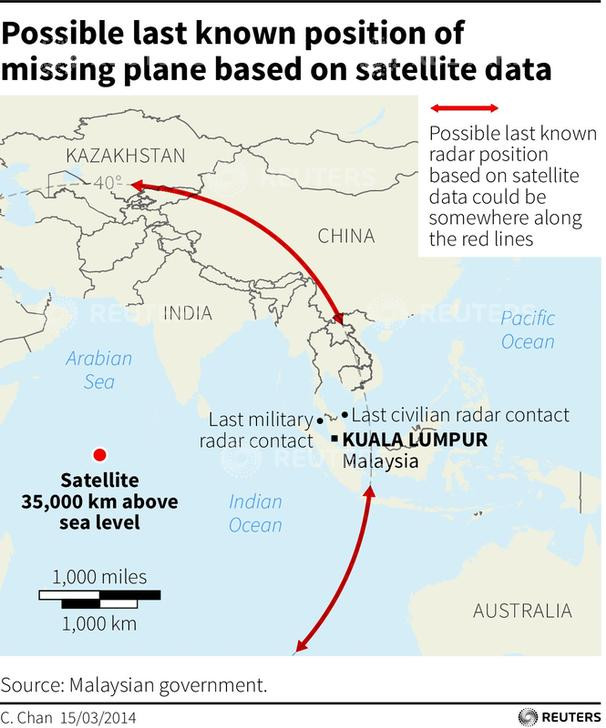 FLIGHT MH370 FACTBOX
Flight MH370 took off from Kuala Lumpur International Airport en route to Beijing at 00:41 on Saturday 8 March (16:41 GMT Friday).
About 50 minutes later, the aircraft lost contact with air traffic control.
No distress call was made.
On board, there were 12 Malaysian crew members and 227 passengers from 14 countries. That included 153 Chinese and 38 Malaysians.
Two Iranian male passengers, Pouria Nour Mohammad Mahread and Delavar Syed Mohammad Reza, were travelling on fake passports. Neither had any apparent links to terrorist groups.
No debris from the plane has been found in the international search.
At least 10 countries, including China, the US and Singapore, were using a total of 42 ships and 39 aircraft to search for the missing plane in the South China Sea, the Malacca Strait and the Andaman Sea.