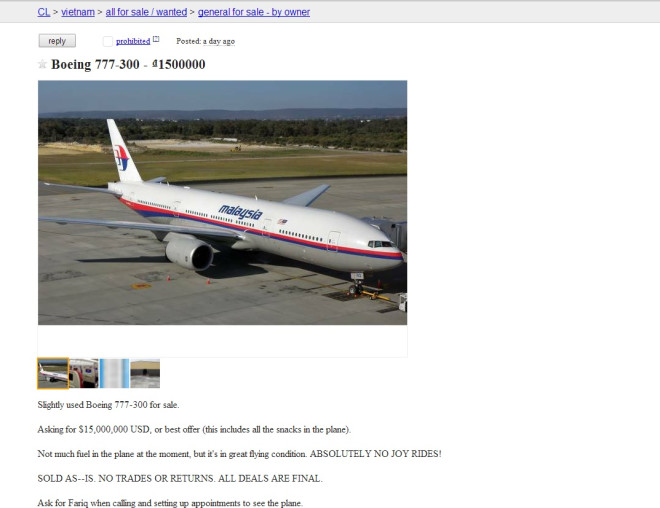 A hoax advert featuring the Boeing 777-300 missing Malaysia airlines flight MH370 has been put up on Craigslist causing puzzled comments on social media.
While investigators have widened the search area to the Indian Ocean and new evidence has indicated that the transponder of the missing flight was shut down deliberately rather than as a result of a catastrophic failure, an anonymous user thought it was a good idea to put the "slightly used" Malaysia's Boeing 777-300 for sale at $15,000,000 USD on the popular classified ad website.
The fake ad, spotted by PolicyMic, reads: "Not much fuel in the plane at the moment, but it's in great flying condition. ABSOLUTELY NO JOY RIDES!
SOLD AS--IS. NO TRADES OR RETURNS. ALL DEALS ARE FINAL."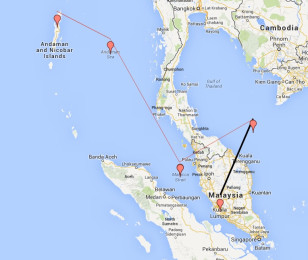 It also cites the co-pilot Fariq Abdul Hamid, who reportedly invited South African tourists into the cockpit of previous flights where he smoked cigarettes and took photographs with the pair.
"Ask for Fariq when calling and setting up appointments to see the plane," the post continues.
The Craigslist post raised eyebrows on Twitter, with some calling it insensitive and others laughing at the joke
US officials believe that the airliner was being flown towards the Andaman Islands, an archipelago between the Andaman Sea and the Bay of Bengal. They also remarked that the data reporting system on the plane was shut down at 0107 local time while the transponder, which sends out location information, was shut down at 0121am.
The fact that both functions were shut down 14 minutes apart has raised suspicions. If the plane had crashed into the ocean it would have been likely that the two data reporting mechanisms would have shut down at the same time, or at least closer together than 14 minutes.