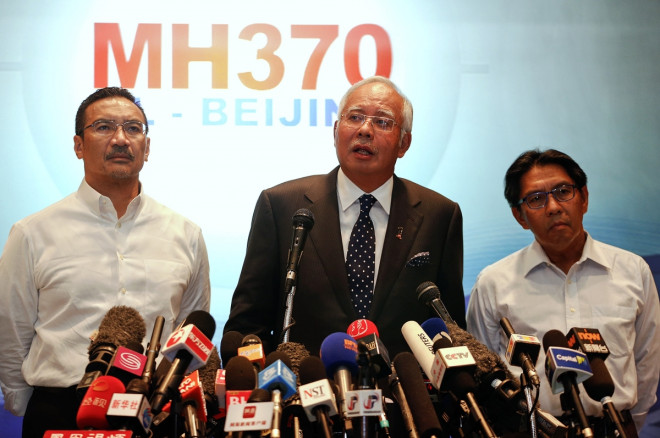 "Deliberate action" diverted the missing Malaysia Airlines plane Malaysia's Prime Minister Najib Razak has confirmed.
Speaking at a news conference, the Prime minister did not categorically state that flight MH370 was hijacked, but revealed that its communications with airport control were deliberately cut.
"Investigation authorities have briefed me on what happened to the flight. Based on new satellite communication, with a high degree of certainty, we can say that the aircraft's communication system was disabled.
"Shortly afterwards, near the border between Malaysia and Vietnamese air space, the plane's transponder was switched off.
"Malaysia Airforce data showed that an aircraft believed to be MH370 flew in the opposite direction. Up until the point at which it left military primary radar coverage, these movements are consistent with deliberate action by someone on the plane," he said.
"Clearly the search has entered a new phase. Over the last seven days, we have followed every lead and looked into every possibility," Razak said.
"For family and friends (of the passengers), we hope this new information brings us one step closer to finding the plane."
Satellite data suggests the jet had continued flying for hours after its last detection by civilian radar.
The final satellite communication with the Boeing 777 came more than six and a half hours after it disappeared from civilian radar at 1.30am local time on March 8.
A Malaysian government official earlier said that a hijacking theory was now 'conclusive.' As a result, shortly after the press conference, officers raided the luxury homes of 53-year-old pilot Zaharie Ahmad Shah and his co-pilot Fariq Abdul Hamid. Both pilots live in the upmarket Kuala Lumpur district of Laman Seri, an hour's drive from the city centre.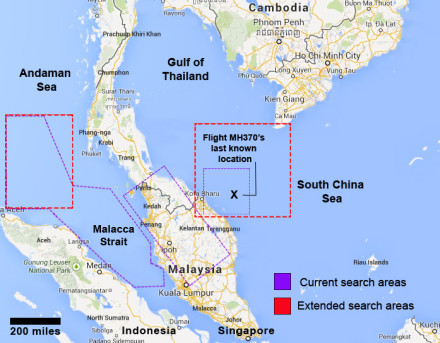 It is not yet clear where the plane could have been taken, however Razak said the most recent satellite data suggests the plane could have headed to one of two possible flight corridors.
The first is a northern corridor from the border of Kazakhstan and Turkmenistan through to northern Thailand, and the second is a southern corridor from Indonesia to the southern Indian Ocean.
It is believed unlikely the plane flew for any length of time over India because the country has strong air defence and radar coverage which would have allowed authorities to see the plane.
The ill-fated Malaysia flight left Kuala Lumpur last Saturday (9 March) bound for Beijing with 239 people on board.
International communities have joined the search for the missing plane with 14 countries, 43 ships and 58 aircraft involved in the investigation.